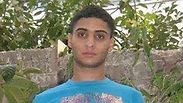 Police clashed with Palestinians across East Jerusalem on Sunday ahead and following the funeral Abed a-Rahman a-Shaludi, who ran his car into a Jerusalem crowd on Wednesday, killing an Israeli baby and a 22-year-old Ecuadorian woman.

A-Shaludi was buried after 11pm near Jerusalem's Old City walls, with only 20 mourners permitted to attend.

As the body made its way to the cemetery, dozens of East Jerusalem residents started calling out "Allahu akbar" as police and Border Police blocked the road.

East Jerusalem residents at funeral (צילום: חסן שעלאן)

In Silwan, dozens of Palestinian rioters threw fireworks at police, who thwarted them with stun grenades and tear gas.

Earlier, Dozens of Palestinian protesters held a "symbolic funeral" in East Jerusalem, marching in Silwan close to the home of the terrorist. They were dispersed after they began throwing rocks at police officers. One suspect was arrested.

In Beit Hanina, Palestinians threw Molotov cocktails at police officers. No on was hurt and police dispersed the rioters using crowd control measures.

In Issawiya, two 16-year-old boys were arrested for throwing stones at security forces.

On, Wednesday a-Shaludi, 21, from East Jerusalem's flashpoint Silwan neighborhood, drove at high speed into a crowd of Israelis. Three-month-old Haya Zissel Braun and 22-year-old Ecuadorian Karen Mosquera were killed and several others wounded. A-Shaludi was shot dead by police as he fled on foot.

Terrorist speeding down light rail platform

He was first to have been buried on Saturday evening but Israeli media said security authorities wanted to impose security conditions, fearing violence.

Tensions have been running high since the incident with nightly clashes across Israeli-annexed East Jerusalem.

As evening fell, violence again erupted there Saturday.

Silwan residents stoned a sanitation vehicle sent to clean up debris from Friday's stone-throwing, and police responded with "non-lethal means of dispersal," spokeswoman Luba Samri said.

Clashes in Silwan (צילום: מוחמד שינאווי)

In al-Tur on the Mount of Olives, masked Palestinians blocked the road with garbage bins, and threw stones and Molotov cocktails, police said.

Near the Shuafat refugee camp stones were thrown at the Jerusalem light railway, a frequent target. Police said a carriage window was damaged but no one hurt.

With tensions further rising after the army shot dead a West Bank teenager Friday, there were also reports of stones thrown at the vehicles of Israeli settlers on roads around the Palestinian city of Ramallah.
US urges calm
Relatives of the dead 14-year-old, Orwa Hammad, said his funeral would take place on Sunday, to allow his father time to travel from the United States where he is a resident citizen.

They said the teenager was also a US national, as was the Israeli baby girl killed Wednesday.

The army said Hammad had been about to hurl a Molotov cocktail at Israeli motorists near Ramallah when he was shot by troops on a stakeout in the village of Silwad to protect a road frequently used by Jewish settlers.

"The forces fired immediately to neutralize the danger ... and confirmed a hit," a spokeswoman said.

Palestinian officials said Hammad was shot during a stone-throwing protest against troops, a regular occurrence in Silwad, which lies close to the Jewish settlement of Ofra.

Washington expressed its "deepest condolences to the family of a US citizen minor who was killed by the Israeli Defense Forces."

State Department spokeswoman Jen Psaki called for "a speedy and transparent investigation" into the teenager's death.

"We continue to urge all parties to help restore calm and avoid escalating tensions in the wake of the tragic recent incidents in Jerusalem and the West Bank," she added.

Israel captured East Jerusalem during the 1967 Six-Day War and later annexed it in a move never recognized by the international community. Some 200,000 Israelis live there alongside about 300,000 Palestinians.

Israel regards the entire city as its "undivided capital" and does not see construction or the purchase of houses in the eastern sector as settlement activity.

The Palestinians claim East Jerusalem as the capital of a future state.