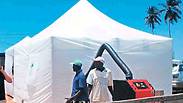 The number of people who have been infected with Ebola in the current outbreak of the disease now exceeds 10,000 in eight different countries, and approximately 50 percent have already died from the virus.
The Israelis are now stepping in to help contain the spread of the deadly epidemic; and special inflatable isolation tents manufactured by Israeli company SYS Technologies, which specializes in the development of clean-air systems and mobile operating theaters, have been installed recently in Guinea.
The inflatable tents have also been purchased for the treatment of Ebola patients by other countries on the continent, where the World Health Organization has yet to find a way to halt the spread of the epidemic.
"There is currently no effective treatment for Ebola, so the principal weapon against it is to isolate the patients so that others aren't infected," says entrepreneur Yossi Yonah, who is marketing the Israeli solution. "Our units are far more readily available than other mobile structures, and they are hermetically sealed and protect the surroundings from the patients."
Delivery time from the company's factory in Or Akiva currently stands at two weeks, during which the units are manufactured in accordance with the client's specifications, using sub-contractors, too, and then flown to Africa, deployed and inflated. The units use a positive pressure technology to create an absolute clear and isolated environment and maintain the structure. The company has also developed an incubator-like stretcher for the safe transfer of patients to the isolation tents.
Aside from Guinea, the company has also received orders from other African countries, and is currently in talks with additional ones where cases of the disease have been found or that are readying for possible outbreaks. Entities in Israel, the Israel Airports Authority among them, have also expressed interest in the systems.

In addition, Israelis are also providing Africa with a system that helps to quickly diagnose potential Ebola patients – an infra-red camera that measures the body temperature of passengers at airports.