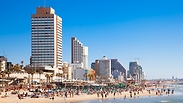 Tel Aviv
Photo: Shutterstock
A top American culinary magazine rated the Israeli metropolis of Tel Aviv as a must-visit foodie destination.
Saveur magazine, the famous American food and recipe publication, named Tel Aviv an outstanding culinary destination in several categories in its annual Culinary Travel Awards.
Tel Aviv was named "outstanding" in the best culinary destination category, with first place given to Copenhagen, Denmark.
Tel Aviv was also named "outstanding" in the Best Markets and Shops category and Best In-flight Wine Program category thanks to El Al Airline's impressive wine list.
Tel Aviv has almost 4,500 businesses in the food industry, more than one restaurant per 1,000 people, an unprecedented number by Middle Eastern standards.
Aside from the numerous hummus and shakshuka joints, the falafel and sabich stands, and the many food bars in the city that helped give Tel Aviv the "outstanding" title, Tel Aviv's fine dining establishments such as Raphael, Yafo Tel Aviv, Pronto, Catit, Herbert Samuel, Messa, and Mul-Yam have already received numerous prizes from food magazines around the world in recent years.
Jerusalem was also mentioned by Saveur, with the city's Mahane Yehuda Market recommended among the ancient markets in Istanbul and Bangkok's night markets.
Another surprising award was given to El Al airlines in the Best In-Flight Wine Category for its selection of wines offered to passengers.
The array of wines presented was selected by Yair Haidu, one of Israel's highest profile wine personalities, and include the most outstanding wines from Israel's vineyards – Ramat Hagolan, Recanati, Castel, Yatir and more.
The prestigious award is one of many Tel Aviv has been graced with in recent years.
The Tel Aviv cocktail bar Imperial was named one of the best bars in the world and the best in the Middle East just two weeks ago.
Earlier this year, the New York Times named Tel Aviv one of the coolest cities in the Middle East, National Geographic categorized it as one of the best coastal cities in the world, and several LGBT magazines ranked Tel Aviv one of the leading destinations for the proud community.