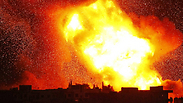 Airstrikes in Kobani
Photo: Getty Images
ARBIL - Iraqi peshmerga fighters left Iraq for the besieged Syrian town of Kobani on Tuesday to help fellow Kurds in their battle against Islamic State militants, a senior Kurdish official said.

Hemin Hawrami, a senior official in the Kurdistan Democratic Party, wrote on his Twitter feed that peshmerga fighters were flying from Arbil airport to Turkey, from where they would travel by land to Kobani.

US warplanes have been bombing Islamic State positions near Kobani for weeks, but Turkish Prime Minister Ahmet Davutoglu has said air strikes alone would not be enough to repel the insurgents.

"Saving Kobani, retaking Kobani and some area around Kobani from ISIS, there's a need for a military operation," he said in an interview with the BBC broadcast on Tuesday.

But made clear neither Turkey nor Western allies would commit troops.

"If they (international coalition) don't want to send their ground troops, how can they expect Turkey to send Turkish ground troops with the same risks on our border," Davutoglu said.

Turkey has been reluctant to join the US-led coalition against Islamic State, an al-Qaeda offshoot. But after pressure from its Western allies, President Tayyip Erdogan said last Wednesday that some peshmerga fighters from Iraq would be allowed to transit through Turkey to Kobani.

The town has been encircled by Islamic State fighters for more than a month and the battle to save it has become a test of the US-led coalition's strategy for halting the radical Sunni Muslim group's advance.

The Iraqi Kurdish region's parliament voted last week to deploy some peshmerga to Syria although a Kurdish government spokesman later said they would not engage in direct combat in Kobani but provide artillery support.