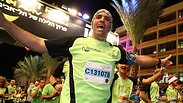 Running in ecstasy
Photo: Tzvika Tishler
Some 25,000 people pounded the streets of Tel Aviv on Tuesday night, in the biggest race in Israel's history. Among them was IDF Chief of Staff Benny Gantz, who completed the 10 kilometer run with his wife, Revital.
The race, through the heart of the city, saw massive traffic jams as streets were closed during rush hour in preparation for the run.
But not everyone in the city was excited for Tel Aviv to host the marathon, which caused some commuters no small amount of inconvenience.
"My road was closed as were all the access roads to it," said Meital, a Tel Aviv resident. "I had to leave my car and go by cab. A journey that usually takes 10 minutes took almost an hour. I don't understand why they have to do it in Tel Aviv.
The run began at Rabin Square, continued along Ibn Gvirol Street, Rothschild Boulevard and Dizengoff Street, ending at Ganei Yehoshua in Yarkon Park.
The fatest runner overall was Noam Ne'eman, who completed the course in 30 minutes and 51 seconds. In scond place overall was Ramzi Abdul-Jaber, who ran the 10km in 31 minutes and 55 seconds.