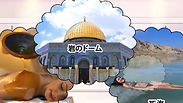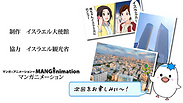 Shalom Chan – the embassy's mascot
Meet Saki and Noriki – Israel's new animated ambassadors to Japan. Israel's embassy in Tokyo recently launched いいね!イスラエル or 'Israel, Like!', a new web series of the anime genre, in the hopes of enticing Japanese tourists to visit the holy land.

The unprecedented public relations campaign will involve no less than seven episodes in which Saki and her sister Moriki visit different parts of Israel, and of course fall in love. Take a glimpse at the anime hasbara initiative:

The show details in vivid Japanese animation the story of the two sister's visit to Israel. Saki and Noroki's at time comic journey is peppered with visits from Shalom Chan – the embassy's mascot - which pops in occasionally with fun facts about Israel.

Each episode focuses on a different area or community in Israel – Tel Aviv, Jerusalem, the Dead Sea and Massada, the Negev, the Kibbutz and the north – and showcases the area's specialty – from boutique wines to cosmetics and hi-tech.

During their journey, the two sisters learn about the different experiences Israel has to offer, and even enjoy some Israeli-made sushi.




According Israel's ambassador to Japan, Ruth Kahanoff, the project's goal is "connect to Japanese pop culture, and use anime to reach the Japanese audience, especially youth, and display the Israel beyond the conflict."

According to Ronen Medzini, the embassy's spokesperson, "The feedback we're getting for the project is unprecedented.

The show is receiving massive media attention all across Japan. The main goal is to showcase the lighter and original aspects of Israeli society all the while paying homage and respect to Japanese popular culture."

On Monday, special premiere screening of the show was given to local journalists at the Tokyo branch of Max Brenner – Israel wines and chocolates included – and according to the embassy representatives of over 20 news and media outlets participated, from mainstream TV channels, to bloggers and film critics.