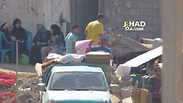 Egyptian citizens leave their homes in Rafah.
Hundreds of Egyptians living along the border with the Gaza Strip evacuated their homes on Wednesday, after the army ordered them out to make way for a planned buffer zone meant to stop militants and smugglers, officials said.
Officials said residents of the border town of Rafah have already handed over 62 homes to the army, a first step for a target of 880 houses where some 10,000 people live.
Plans to create a buffer zone along the Gaza border started after the Palestinian militant group Hamas seized the territory in 2007.
Tanks and armored vehicles sealed off all of Rafah, while bulldozers stood by to demolish the houses, said officials, as well as witnesses who refused to give their names for fear of reprisals.
Previous administrations had tried but failed to implement similar measures to stop the endemic smuggling from the Palestinian territory, although they all backed down after protests by residents, who see the evacuation as forced displacement.
Residents of the border area, in the northeastern corner of the Sinai Peninsula, say they were given short notice to pack up and leave, and that while the government has promised financial compensation they haven't received any money yet.
"People are in a state of shock but helpless at the same time," said Ahmed Etaa, who lives in nearby Sheikh Zuweyid town and who is in touch with friends packing and leaving their homes in Rafah.
The move to set up the planned 13-kilometer (8-mile) buffer zone, which will be 500 meters (yards) wide, comes in the aftermath of a deadly attack on an army checkpoint near the Sheikh Zuweyid town last week that left 31 dead.
Egypt declared a three-month state of emergency and dawn-to-dusk curfew in the area and indefinitely closed the Gaza crossing, the only non-Israeli passage for the crowded strip with the world.
The corridor will eventually be monitored by surveillance cameras, and feature a water-filled trench that will be 40 meters wide, 20 meters deep and run all along the border to the Mediterranean Sea, officials said.
Officials said that Israel had proposed the water barrier in the past under ousted Egyptian president Hosni Mubarak, but the idea had been shelved. Mubarak had also planned a separation barrier along the border, but stopped it after large protests.
"People are against this decision but they are surrendering," Etaa said, adding, "if there is a house with a tunnel underneath it, the army can easily find out about it and blow it up as it did before but what is happening now is a mass punishment."
The border area is most populated in Rafah, a city that was split into two cities, one Palestinian and one Egyptian, after Egypt signed the Camp David accord with Israel in 1978.
Many who live on the Egyptian side have extended family on the Gaza side, Etaa said.
Since the military ousted Islamist President Mohammed Morsi last year, it has stepped up an offensive in northern Sinai against militants and Islamic insurgents.
Army engineers have demolished and blocked hundreds of secret smuggling tunnels, although authorities believe several remain and that they pose a national security threat.
The officials spoke on condition of anonymity because they are not authorized to speak to media.