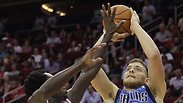 Gal Mekel. 'Next stop?'
Photo: AP
The Dallas Mavericks have waived their Israeli guard Gal Mekel in order to make room for signing former guard J.J. Barea.

Mekel became a free agent Wednesday night after a long conversation with Mavericks owner Mark Cuban.

"The future is very bright for Gal," said Donnie Nelson, the Mavericks' general manager and president of basketball operations. "He's got a big upside and is developing ahead of schedule. We wouldn't have even considered this move if it weren't for the unlikely scenario where a player of J.J.'s caliber was available."

Game Over

Magic Johnson and other past and present NBA stars cancel participation in inauguration of Jerusalem's new multi-purpose sports arena.

Mekel averaged 2.4 points, 2.0 assists and 9.4 minutes in 31 games last season.

The Israel native spent the entire exhibition season with the Mavericks, averaging 7.6 points, 3.9 assists, 1.8 rebounds and 19.4 minutes in eight games.

Several hours after receiving the news, Mekel wrote on his Facebook page: "It was a great experience wearing this jersey in the past year. Many memories and great moments, a long process of progress every day.

"I would like to thank the team, the city, the fans, but first of all the amazing friends I made here. I still don't know where my new home (team) will be, but I am filled with motivation and excitement over the opportunities which will come along, God willing… Thank you, Dallas!!! The next stop?"

Mekel is now waiting to see whether another team will grab him from the list of released players within the next 48 hours and commit to his contract of $1.76 million for two years – a sum he will receive from Dallas if he is not signed elsewhere.

If he remains a free agent after this period, he will be able to sign a different contract. The estimates in America are that his accumulated experience and performance in the exhibition games have turned him into legitimate player who will be able to find a new team. One of the options is Utah, which has shown in interest in Mekel in the past.

Reuters contributed to this report.