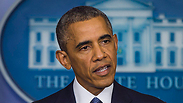 'Voting for Republicans will give message to Iran that public doesn't support Obama's appeasement'
Photo: EPA
On November 4, American voters will be facing a monumental and high stakes moment in which they will decide whether control of the US Senate will continue to be in Democratic Party hands or be turned over to the Republicans.

American voters should be warned that the continuance of a Democratic-controlled Senate led by Harry Reid will guarantee that Iran will end up being the first Islamist jihadist state with a nuclear weapon. Only a Republican-controlled Senate and House of Representatives will be able to stop President Barack Obama from capitulating to the Iranians and signing a bad deal which will allow the country to become a nuclear threshold state.

Nuclear Talks

Op-ed: US president seems to have made up his mind that normalizing ties with Tehran is an even more important American interest than preventing a nuclear Iran.

A bill proposed by fellow Democratic Senator Bob Menendez and Republican Mark Kirk, which threatens additional harsher sanctions than those originally imposed on Iran in 2011 if no final agreement to dismantle their nuclear enrichment program is reached by the November 24 deadline, failed to even come to a vote on the Senate floor this last winter.

The resolution, which at the time had the votes to pass with 43 Republicans and 16 Democrats cosponsoring it, was blocked from coming to a vote by Democratic Senate Majority Leader Harry Reid at the request of the White House.

While only two Republicans did not support the bill, many of the Senators from the Democratic Party were against it including many Jewish Senators. Only if the Republicans take control of the Senate, it is likely that Obama will find himself presented with a new sanctions bill whether or not he signs a final agreement with Iran.

The blocking of this legislation by the White House is flabbergasting when one remembers that Iran only came to the negotiating table in large measure because of the original crippling economic sanctions drafted by Senators Mark Kirk and Robert Menendez in 2011 which was reluctantly signed into law by Barack Obama. Those sanctions reduced Iran's oil exports and cut it off from the global, dollar dominated financial system.

Consequently, Iran's currency lost three quarters of its value and inflation and unemployment rose greatly. As senior Treasury Department officials told Reuters in an interview, "Iran's economy today is about 25% smaller than it would have been if we had not imposed the oil and financial sanctions."

On October 19, the New York Times reported that Obama was planning on bypassing the Congress by not bringing a future final agreement to a Congressional' vote which will include suspending the enforcement of the sanctions passed in 2011.

Such a plan is worrisome because it implies that the agreement the US is pushing so hard for, is a bad one. Otherwise, why not bring it to the Congress which could then simply vote to rescind the sanctions or ratify the treaty after a full congressional hearing, disclosure and debate.

The Los Angeles Times on October 20 reported that conservative Iranian lawmaker Javad Qoddoushi said that he was briefed by Abbas Araqchi, Iran's deputy foreign minister and a nuclear negotiator, who stated that the Obama Administration has sweetened its offer again in the ongoing negotiations, saying that it might accept Iran operating 4000 centrifuges, which are used to enrich uranium, up from the previous 1300.

This news came a week after we learned that the Obama administration has agreed to let the Iranians disconnect their remaining operating centrifuges, rather than dismantle or destroy them as Obama originally promised.

These US concessions are the latest in a long line of concessions. In November 2013, the US and five other world powers signed the Geneva Interim Agreement in which they tacitly endorsed the Iranians "right" to enrich and gave them sanctions relief worth more than $7 billion just for willing to engage in talks.

Then, after six months of negotiations in which the Iranians conceded nothing, the US extended the negotiations another six months despite the fact that Iran has still not implemented all the nuclear transparency measures it had agreed to carry out in the interim agreement.

The only way now to pressure Iran to agree to dismantle their nuclear program is if the Iranians fear that the new elected Congress will be determined to override any possible Obama veto and shut down their economy again with much worse crippling sanctions.

Voting for a Republican Senate majority this November will give a message to Iran that the American public does not support Obama's agenda of appeasement and that the Republicans with the support of few righteous Democrats have the public mandate to take the fight to Obama and undermine any possible weak or bad final agreement.

As the leading Republican critic of the negotiations, Senator Mark Kirk, said: "Congress will not permit the president to unilaterally unravel Iran sanctions that passed the Senate in a 99 to 0 vote."

Shoula Romano Horing is an attorney. Her blog can be found here: www.shoularomanohoring.com .