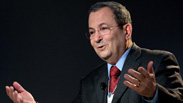 Ehud Barak: Father of the Sons of Darkness
Photo: AFP
Amnon Abramovich
Photo: Channel 2
Channel 1's interview with Ehud Barak last Friday night sparked in me a longing for the man, a longing seeped in compassion – to be honest, more compassion than befits someone who kept a close watch on Barak's performance as chief of staff, as prime minister and as defense minister, and should remember the damage he did to the country, the army, the Defense Ministry and the Labor Party.
Based on the interview's ratings, very few of us, just a handful or two, miss him; but the numbers don't sooth my senses or detract from my longing for his return to the public arena.
Barak is an analyst; he's erudite; his speech is clear and unbroken; his political outlook is as straight as a die; he's aware of the limits of military power and the extent of our dependence on the United States; he has a sophisticated sense of humor and an even more sophisticated sense of self-reflexive humor; he knows how to appreciate a good joke or expression of wit – even and particularly when directed at him; you can laugh with him about his character and traits, about his gait, about his mannerisms and his wives; but you cannot joke with him, not even in innuendo, and you cannot press him when it comes to one particular subject – how he made so much money so quickly.
This is a man who answers to no one, who's purposeful, who's blind to the past and looks to the future. Remember what he said to then-minister Moshe Shahal when he wrenched the microphone from his hand and booted him off the stage at the Labor Party Convention? "Moshe, forget the nonsense, we'll be doing business together one day!"
Barak knows all too well that all the terminology stemming from the so-called Harpaz Affair, which could easily have been called the Barak-Ashkenazi Affair – such as putsch, rebellion, subversion, bordering on criminality, subordination, authority, thwarting a legitimate decision – is artificial, lacking in substance or unfounded. Why then did he become obsessive about it? Because he believes, rightly so or not, I don't know, that Gabi Ashkenazi, his wife and their friends put a trace on his business activities, the sources of his wealth, the manner in which he raked in his cash.
For that, and for that only, he has no forgiveness or penance to offer. And for that, he will hunt down Ashkenazi and Co. with obsessive fervor, even though the state comptroller's report and two rounds of police questioning determined that his claims are false – or, in the vernacular, fantastical.
The state comptroller's report exposed harsh findings regarding Barak's performance as defense minister and raised a number of questions about his actions and credibility – acted contrary to the normative foundations of the Israel Defense Forces; acted contrary to orders from the high command; disregarded an active chief of staff; disrupted the functioning of the army when he delayed the appointment of hundreds of senior officers; his version of events are surprising; and so on and so forth.
This open report alone could prompt any budding state prosecutor into drafting a request for a hearing, with suspicions ranging from alleged fraud and breach of trust to alleged abuse of office and more. But Barak has always been immune to the state prosecution and one of its pets; so this time, this time again, he was pulled from the fire.
The much-spoken-about slide presentation – the "malicious" presentation as Barak's media staff put it – attributes him with legal immunity and all-round protection from the press. Since I am the only journalist mentioned in the presentation as his protector, as the one wrapping him in cotton wool, I can state that the presentation is chronological and factual, albeit simplistic and demagogic, but contains no extraordinary malice.
One can assume it was produced by right-wing elements who claimed back then that Barak was steering Netanyahu to the left – to a freeze on settlement construction in the territories and the two-state formula. In an effort to afford the presentation an apolitical facade, it also outlines Barak's failures as a militarist and offers numerous press cuttings about his elaborate business affairs and myriad of corporations.
In keeping with the standards of the Sons of Light, and in accordance, too, with those whose demands don't reach that high, Barak should be classified as the father of the Sons of Darkness, or, at the very least, the first-born son of the Darkness family.
Q: So why do you wish for his return?
A: The current level of politics is so low, so poor; and a low level, in my opinion, is corruption in itself – so it would be best for him to return. He's immune to investigations; he has nothing to fear. He's accumulated sufficient apartments for himself, his daughters and his grandchildren; there's no reason for him to continue to chase up business in Africa and the Far East. Although not a role model, he should return – someone of quality at least.