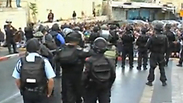 Israeli security forces in East Jerusalem
Photo: Reuters
Palestinian President Mahmoud Abbas appealed to US Secretary of State John Kerry in a telephone call Friday to stop Israel from continuing its "violations" and "escalations" in Jerusalem, the Arab media reported. These "violations" reportedly include "transgressions" on the Temple Mount.

According to the reports, Abbas condemned Israel's settlement policy, and confiscation of Palestinian homes. Such actions, the Palestinian leader said, would inevitably only serve to ratchet up the levels of violence and extremism in an already tense situation.

Palestinian news agency Wafa said that Abbas praised Kerry's efforts and those of Jordanian King Abdullah "to stop the Israeli practices and halt the escalation".

Clashes in Jerusalem after Friday prayers (צילום: רויטרס)

Meanwhile, senior PLO member and chief Palestinian negotiator Saeb Erekat said in a statement Friday that he held the Israeli government responsible for the "deteriorating conditions" in the West Bank, the Arab media said. He also reportedly echoed Abbas' accusations of Israeli "transgressions" at the al-Aqsa Mosque.

Related articles:

Clashes erupt in East Jerusalem, West Bank after Friday prayers

How to prevent a religious war in the Middle East / Ron Ben-Yishai

Israel opened but limited access to the Temple Mount for Friday prayers earlier in the day, after it was closed to all visitors on Thursday in the wake of the attempted assassination of rightwing activist Yehuda Glick.

Friday prayers at the site passed relatively quiet, with one or two minor incidents. Violence broke out, however, after the prayers were over, with clashes in East Jerusalem and the West Bank. The Palestinians said that eight people had been wounded in the clashes, one seriously.

Kerry expressed concern Thursday over the escalation of tensions across Jerusalem. He also condemned the shooting of Glick, a US citizen, saying the State Department was seeking more information from the authorities.

"It is absolutely critical that all sides exercise restraint, refrain from provocative actions and rhetoric, and preserve the historic status quo on the Haram al-Sharif/Temple Mount - in word and in practice," Kerry said in a statement.

The United States also urged all sides in Jerusalem to exercise restraint, and said it was working with Israelis, Palestinian and Jordanians to try to restore calm.