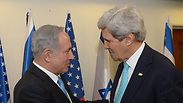 Kerry and Netanyahu before the storm
Photo: Amos Ben Gershom, GPO
US Secretary of State John Kerry called Primer Minister Benjamin Netanyahu on Friday, to apologise for the derisory comments made about him by US officials and published earlier this week by The Atlantic.

The Prime Minister's Office confirmed Friday that the conversation had taken place.

In an article published Tuesday, columnist Jeffrey Goldberg quoted several American officials who insulted Netanyahu, including one who called the prime minister "chickenshit". Another said that he was interested solely in his own political future.

Related articles:

According to Goldberg, over the years Washington officials have described Netanyahu as recalcitrant, myopic, reactionary, obtuse, blustering, and pompous – but none of these insults were as surprising, he says, as "chickenshit."

One official told Goldberg that the Israeli leader was a "coward" on Iran and that the Obama administration no longer believes Netanyahu's threats of a preemptive airstrike on Tehran's nuclear facilities.

Kerry said Thursday that the comments were "outrageous and unacceptable."

"We condemn anybody who uses language such as was used in this article," Kerry told an audience at the annual Washington Ideas Forum. "It does not reflect the president, it does not reflect me, it is disgraceful, unacceptable, damaging."

Netanyahu's relationship with US President Barack Obama has long been considered to be difficult; the two disagree on Israeli policy and Netanyahu even openly supported Obama's Republican rival Mitt Romney in the run-up to the 2012 presidential elections.

There had been speculation that the comments were an attempt to discredit Netanyahu before an agreement with Iran on its nuclear program that Israel might find objectionable.

Netanyahu said in response to the article that he was under attack because he is "defending Israel."

"I respect our ties with the US," Netanyahu said Wednesday, but added, "I'm not ready to make concessions that would endanger our country."

The Obama administration did try to distance itself from the comments by the unnamed officials, calling them damaging and detrimental.

"Certainly that's not the Administration's view, and we think such comments are inappropriate and counter-productive," National Security Spokesperson Alistair Baskey said on behalf of the White House on Wednesday.

Israeli politicians from across the spectrum rallied around the prime minister in the wake of the article, saying that disagreements between the two allies should be kept behind closed doors and not aired in such a public forum.