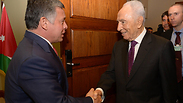 Abdullah with Peres last year
Photo: GPO
The King of Jordan lashed out Sunday at what he branded Israel's "unilateral" moves regarding the Temple Mount and vowed that his country would protect Christian and Muslim holy sites against them.
"Jerusalem, where the blood of our martyrs soaks the earth, is a holy deposit in our hands," said Abdullah in his speech to mark the opening of the Jordanian parliament.
"We will continue to block Israel's unilateral steps in Jerusalem and defend the holy places of Islam and Christianity."
Abdullah stressed that Jordan would continue to mobilize the international community for the rehabilitation of the Gaza Strip in the wake of the summer conflict between Israel and Hamas.
The king said that in order to avoid a repetition of "the brutal aggression that cost the lives of thousands of our brethren," there had to be negotiations between Israel and the Palestinians on the core issues, based on the two-state solution within the 1967 borders and the Arab peace initiative.
There was furious outcry last week over Israel's decision to close the Temple Mount, the site of the al-Aqsa Mosque and the ruins of the two Jewish temples.
The decision came in the wake of the attempted assassination of Yehuda Glick, a right-wing Israeli activist who was devoted to returning Jewish worshippers to the Temple Mount. The site was opened to Muslim men over the age of 50 and women of all ages for Friday prayers, while hundreds of Muslims not able to enter prayed in the surrounding streets.
Prime Minister Benjamin Netanyahu on Sunday called on his Cabinet to show restraint over the Temple Mount, even as MK Moshe Feiglin, from the right-wing flank of his own Likud party, went up to the Temple Mount to protest the ban on Jewish prayer there.
According to agreements reached by Israel after the 1967 Six-Day War, the Temple Mount was to remain under the stewardship of the Wafq – a Muslim trust caring for religious sites around the Old City of Jerusalem.