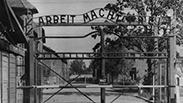 ' Arbeit Macht Frei' sign in Auschwitz
Photo: AP
German police say part of a wrought-iron gate at the former Dachau concentration camp bearing the Nazis' cynical slogan "Work sets you free" - or Arbeit Macht Frei - has been stolen.

Police said in a statement that security officials noticed early Sunday the gate section measuring 190 by 95 centimeters (75 by 37 inches) was missing. They say that whoever stole it during the night would have had to climb over another gate to reach it.

Related stories:

Police say they found nothing in the immediate vicinity of the camp and appealed for anyone who noticed any suspicious people or vehicles to come forward.

Dachau, near Munich, was the first concentration camp set up by the Nazis in 1933. More than 40,000 prisoners died there before it was liberated by US forces on April 29, 1945.

In 2009, thieves took the Arbeit Macht Frei ("Work Sets You Free") from the Auschwitz death camp in Poland and planned to smuggle the metal sign on a ferry to Sweden.



(Photo: AP)
Polish police estimated that the motive for the crime was political, not anti-Semitic. "We can say that the five suspects are not members of the neo-Nazi movement," the police reported at the end of the suspects' interrogations.
At the time, Auschwitz Museum spokesman Mensfelt told Ynet he had no doubt that whoever stole the sign had prior information as to when the site is unguarded and how to reach the sign.
Mensfelt said the act could only be described as the desecration of a holy site.
Polish Ambassador to Israel Agnieszka Magdziak-Miszewska said that the Polish police believe the unknown perpetrators who stole the infamous sign at the entrance to the Nazi death camp Auschwitz meticulously planned out their plot because they were not caught on security cameras.
Yael Branovsky contributed to this report