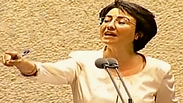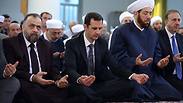 Syrian President Bashar Assad
Photo: EPA
A group of officials and party members from one of Israel's Arab parties have launched a new offshoot movement, as tensions in the Arab world over Syria spill over into local Israeli politics.

Balad (Hebrew acronym for National Democratic Assembly) – a nationalistic Arab party known for its firebrand anti-Zionists MKs – has spilt into two, after the party officially shifted its support against Syrian President Bashar Assad's failing regime in war-torn Syria.

The new offshoot movement – Kapach (or Struggle) – says the party's support of rebels stems from foreign interests being led by former-MK and party strongman Azmi Bishara.

Bishara, who was forced to flee Israel in 2007 after facing security related allegations for his contacts in Arab states, has since lived in Qatar, an ardent supporter of the Syrian rebels. Bishara is said to be working to help the Syrian National Coalition depose Assad and now the dissenting party members claim his Qatari bosses are trying to get involved in party affairs.

Kapah launched their new faction on Saturday night, but said they do not intended to contend in the national elections, which could deal a death blow to Balad, who would not be able to pass the minimum voter threshold were its constituency divided between two parties.

According to separatists leader and former-MK Mohammed Miari, "Israel and the Mossad are conspiring over Syria," a claim long purported by pro-Assad forces.

Despite the fact that at least 191,000 people have died during the bloody Syrian civil war, Miari elaborated on his support for the Syrian regime and slammed the rebels, which he lumped together as supporters of the Islamic State group, an al-Qaeda offshoot that grew to province amid chaos in the Syrian rebel movement.

"We are for Syria and its regime, which is forced to fight against criminal and brutal attacks. Syria is the only Arab nation which has preserved Arab nationalism … while other nations send fighters to fight the regime under the claim they want to create a democracy, but these are people who slaughter innocent civilians," Miari said in a reference to the Islamic State group.

"People need to understand that Daesh (Arab acronym for the Islamic State group) and its supporters cannot bring democracy to the citizens of the Arab world. They will destroy this world and its culture."




Slamming the party's current leader Jamal Zahalka, as well as MKs Hanin Zoabi and Basel Ghattas, Miari said they were helping Israel and failing to take a clear stand in Syria.

"Their position does not bode well with me… the worst part is that they tie themselves to Qatar. They claim that Syria is massacring its own people, but didn't clearly condemn it, because they are doing Bashara's bidding and thus serving the interests of Israel and the other Arab nations. The only reason they support Qatar is because it donates millions."

In response, Balad said in a statement that "we do not want to comment on this new movement, as long as it doesn't bother Balad."

A source within the party told Ynet that "we will miss those leaving, but for every one who leaves, dozens will join."