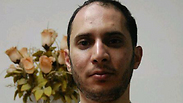 Suspected assassin Muataz Hijazi
Abbas sent condolence letter to family of Glick's shooter
Palestinian president's office confirms Abbas sent sympathy letter to family of Muataz Hijazi, suspected of shooting right-wing activist Yehuda Glick. Lieberman: "move proves more than anything that Abbas is indeed a partner – a partner for terror'.
Palestinian President Mahmoud Abbas sent a condolence letter to the family of Muataz Hijazi, the suspect in the shooting of right-wing activist Rabbi Yehuda Glick who was killed by security forces during a shootout, Israel's Channel 10 news reported on Sunday. PA Jerusalem Affairs minister Ahmed al-Rawidi, confirmed yesterday that such a letter was indeed sent.

Following the report, Foreign Minister Avigdor Lieberman slammed the Palestinian President, saying "the move proves more than anything that Abu Mazen (Abbas) is indeed a partner – a partner for terror, a partner for terrorists, a partner for murderers.

"This despicable letter by Abu Mazen openly supports terror and encourages more killings. I call on the international community to condemn this man who is leading the Israeli-Palestinian conflict to violent and horrible places," Lieberman added.

Prime Minister Benjamin Netanyahu also denounced the gesture. "While we are trying to calm the tense situation, Abu Mazen sends a condolence letter over the death of someone who tried to commit an abominable murder," Netanyahu said.

"The time has come for the international community to condemn him for such moves," the prime minister stated.

Meanwhile, on Sunday morning, Abbas issued a surprising statement in support of Netanyahu. The statement published by his office said that Netanyahu's recent calls to calm the situation in the Temple Mount is a step in the right direction, mainly due to the need to continue and create an atmosphere of calm.

However, the Palestinian President's office also noted that "continued right-wing agitation will lead to dangerous consequences that will affect the entire region."

Tensions resumed Sunday in Jerusalem, as a Border Police officer was lightly wounded during riots by Palestinians in the area of Atarot, north of the capital. Some 100 Palestinians hurled stones and clashed with police forces who were at the scene. During a raid on a house in the Silwan neighborhood in east Jerusalem, Border Police officers found hundreds of fireworks, air guns, dozens of bottles containing marbles and other equipment suspected to be stolen.

The house's owner was not at the house while it was being searched, and his brother was taken for questioning. The forces arrived at the home after receiving intelligence that the house had been used as storage site for weapons used by rioters in east Jerusalem.