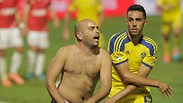 Zahavi and the fan exchange blows
Photo: Reuven Schwartz
The Tel Aviv derby between hosts Hapoel and Maccabi was abandoned at halftime on Monday as the match descended into chaos after a Hapoel fan attacked a Maccabi player, who was then sent off for retaliating.

Stewards and security officials were slow to react as the bare-chested Hapoel supporter jumped out of the stands and onto the pitch where he threw kicks and tried to slap Maccabi striker Eran Zahavi as he went to pick up the ball in the 33rd minute.

Zahavi, who minutes earlier had brought Maccabi level at 1-1 with a penalty, at first tried to repel his attacker and then kicked back before the supporter was restrained and taken away. The player was then sent off by referee Roi Reinshriber.

After scoring his penalty in the 31st minute, Zahavi had taunted the Hapoel fans behind the goal and was booked.

Stunned for being shown a red card for retaliating against the supporter, Zahavi only left the pitch after a long melee.

Play was restarted briefly but a further pitch invasion by a handful of other fans, apparently from both sides, forced the abandonment with both teams in the dressing rooms.

"This was not a game of football, it was war... I'm stunned and ashamed to be involved in football on a day like today. Both clubs and both sets of supporters must be severely punished for what happened here," said Hapoel manager Eyal Berkovic.

Sports Minister Limor Livnat, in a statement, described events as "very serious and most shameful", saying that stopping the match was the only course of action.

The derby between the two major Tel Aviv clubs is always a highlight match for the arch-rival outfits whose respective hard line supporters are bitter adversaries. Champions Maccabi have dominated the fixture in recent seasons.

Tel Aviv police chief Bentzi Sau said 10 supporters had been arrested and that video footage would be examined to search for other offenders.