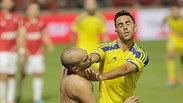 Eran Zahavi fights Hapoel fan
Photo: Reuven Schwartz
Dozens of rival fans from Hapoel Tel Aviv and Maccabi Tel Aviv brawled in the street outside the city Magistrate's Court on Tuesday, as rioters who invaded the pitch during Monday night's derby were brought to face a judge. Among those arrested after the fight was the son of MK Dov Khenin.
The brawlers used belts and wooden sticks as weapons, and by noon, police had arrested three people.
"We heard shouting and went outside. There were heavy blows, swearing, belts and sticks," one witness told Ynet. "We immediately understood that they were fans... There was no police presence, only a few courthouse security officers. They dispersed slowly. By the time two police cars arrived, there were almost no fans left."
Soccer fans brawl in the street
Khenin told Ynet that his son "had been at the game and returned home. He's unavailable right now. He's a little more than 18 years old and a fan of Hapoel. I have no idea what exactly happened today. I'm hearing about it from journalists. In my opinion, this is not a public matter. I hope I will not have to deal with members of the family."
The court ruled Tuesday that the Hapoel Tel Aviv fan who first ran onto the pitch and attacked a player during the match will remain be remanded for at least another three days.
In court, Judge Yaron Gat criticized Elroy Yadai, the 35-year-old Hapoel fan who leapt onto the pitch during Monday evening's match and attacked Maccabi's midfielder Eran Zahavi, calling him a hooligan who could have inflicted real injury on a professional sportsman.
Violence at Tel Aviv derby (באדיבות: one)
"The acts attributed to the suspect are serious on several levels," said Gat. "First, they are characterized by crude, unbridled violence, which could have led to real bodily harm. Second, they are characterized by hooliganism, law-breaking, and contempt for public order and sports. Third, the acts have serious ramifications in the fields of sports and education. Under these circumstances, I believe that the suspect does pose a danger."
Israel Radio said Tuesday that Hapoel has banned Yadai for life.
Yadai's attorney Asaf Alwia claimed in court that his client had been beaten by security guards, adding that Alwia himself was "not certain that (Yadai) intended to attack Zahavi. He was responding to a provocation."
But a police official told the Knesset House Committee on Tuesday that Yadai has been arrested 11 times in the past and banned seven times from soccer arenas.
Gat also approved a total ban from games until the end of the seaon for one person arrested in the incident, but agreed to release him on bail.
Prior to his court hearing, Yadai stated that "what will be, will be". His lawyer added that he had previously been under house arrest for a period of two years without breaking its terms.
The violence began to unfold in the 33rd minute of the game, as Yadai, stripped to the waist, ran onto the pitch to protest a penalty goal by Zahavi. He approached and confronted Zahavi, and after several seconds - during which no police or security intervened – physically attacked him.
Zahavi responded in kind; the two parties are divided on whether he acted purely out of self-defense, or had attempted to beat Yadai. After the confrontation, Zahavi received a second yellow card from referee Roi Reinschreiber and was sent off the pitch.
Zahavi's subsequent protests led to chaos and a lengthy break in the game. During this time, the Maccabi Tel Aviv players considered walked off the pitch and ending the game, but were ultimately convinced to carry on playing. But seconds after the referee sounded his whistle for the game to continue, some Maccabi fans stormed the pitch, leading to a total abandonment of the match.
The incident on the pitch – and the ongoing tension between Zahavi and Hapoel fans – led to police to provide the player and his family with tight security. The police were also expected to patrol areas in which both teams' players live
"The responsibility for the incident is in the hands of (the game) organizers," the police said Monday in response to questions about its handling of the incident. "Two hundred police officers were prepared for this explosive match; it was the League's management that halted it."
Eyal Berkovic, Hapoel's manager, defended Zahavi's response but also warned that soccer in Israel has become more vicious.
"I would respond the same way as Zahavi if I were attacked," said the former Manchester City player after the game was halted. "He did not deserve to get a red card, but he is also at fault because he provoked the fans. I have been saying for years now that soccer here is conducted like war. There was a war-like atmosphere and the referee made the right call (to end the game). Once the pitch becomes a battlefield, we have to stop the game as an example for all.
"This was not a game of soccer, it was war... I'm stunned and ashamed to be involved in soccer on a day like today. Both clubs and both sets of supporters must be severely punished for what happened here."
Moran Azulay and Itay Blumenthal contributed to this report.