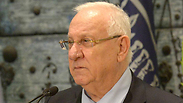 President Rivlin at ceremony
Photo: GPO
"For me, Rabin – yes, him – was the father of the movement which arose in city squares three years ago, including Rabin Square, calling for a change in Israel's priorities, urging us to look within," said President Reuven Rivlin on Tuesday during a candle-lighting ceremony to mark the 19th anniversary of prime minister Yitzhak Rabin's assassination.

"Alongside his commitment to peace, Rabin did not helplessly wait for the 'post-peace' Israel, for the 'peace' that will comprehensively solve out problems from here on out. Instead, he was brave enough to deal with the Israel of the 'here' and 'now'," stressed Rivlin, the former Likud stalwart.

Rivlin emphasized to the assembled guests that Rabin "never neglected to look inwards, deep inside Israeli society."

The Israeli leader added that "alongside peace and security – and even before them – Rabin insisted on dealing with education, health, and welfare, and with a whole slew of changes – which he led during his second term in office – under the banner of 'changing priorities'."

In his speech, Rivlin, a long-time opponent of the assassinated Labor leader, reflected on the impact of the former prime minister. "For me, the legacy of Rabin is not only a legacy of war and peace but also the legacy of his leadership – one that does not simply lead the camp but also walks within out of a concern not just for our safety but also our image as a society – more just and more equal."

He emphasized: "The legacy of Rabin is, for me, also the legacy of leadership, a defining, molding leadership which courageously stands up to difficult decisions. 'I will decide and I will navigate,' he declared, and he indeed navigated according to his conscience and without excuses."

"He led without excuses, as a commander. He led without excuses, as a fighter. And he led without excuses as a member of Knesset, a minister, and a prime minister. The person who knew to take responsibility, as prime minister, for the successful operation in Entebbe, knew to also take responsibility, as prime minister, for the failure of the operation to free kidnapped IDF soldier Nachshon Wachsman," Rivlin said in his laudatory remarks.

"With Rabin, neither the failures nor the successes were orphans," he added.

Dalia Rabin, Yitzhak's daughter, also spoke at the ceremony. "This year, as in the past 19 years ago, we come here to light the memorial candle. Year after year we come here to remember the words, the pictures, and the songs with the children. Everyone is here because, every year, we return and are shocked from the memories of that dark and dreary night."