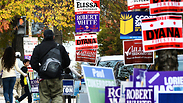 Dems lose Senate, as GOP takes both houses
Photo: MCT
Resurgent Republicans won control of the US Senate, capturing seats from Democrats in elections Tuesday shaped by deep voter discontent with President Barack Obama.

With Republicans strengthening their majority in the House of Representatives, Obama will spend his final two years as president contending with a Congress fully controlled by opponents who have been determined to block his policies.




Republicans won at least seven seats now held by Democrats, while Democrats failed to pick up a single Republican seat. That assures the Republicans of at least 52 votes in the 100-member chamber.

They were also on track to expand their majority in the House of Representatives to near-historic levels. And they won two high-profile gubernatorial races, in Florida and Wisconsin, where Democrats thought they had a good shot at defeating the incumbents.

Among the Republicans re-elected Tuesday was the man who would likely become majority leader if the party captures the Senate: Mitch McConnell of Kentucky. Democrats once had high hopes of defeating him, but he pulled away in the final weeks.

Voters are "hungry for new leadership. They want a reason to be hopeful," McConnell said.

Said outgoing Senate Majority Leader Harry Reid, a Democrat, " The message from voters is clear: They want us to work together."

The shift in control of the Senate will likely result in a strong Republican assault on budget deficits, additional pressure on Democrats to accept sweeping changes to the health care law that stands as Obama's signal domestic accomplishment and a bid to reduce federal regulations.

Obama's ability to win confirmation for lifetime Supreme Court and other judicial appointments could also suffer.

Republicans were more fired up in this election, united in opposition to a president they see as pushing the government too deeply into American lives. But dissatisfaction went beyond the party.

Americans tend to be disgruntled these days, seeing the economy as stagnating or growing worse and besieged by troubling news, such as the beheading of Americans by Islamic extremists and worries about Ebola. While exit polls show voters dissatisfied with Republican leaders, it's the president who gets the brunt of the blame.

Opinion polls show Obama's popularity falling and, though he wasn't on the ballot, Republicans made him the focus of their campaigns.

"I'm just waiting for him to be gone," said Kristi Johnson, a 36-year-old pharmacist from North Carolina.

It was bound to be a difficult election for Democrats. Governing parties historically lose seats in midterm votes and a number of Democrats were defending seats in states that lean Republican. Some were first elected to six-year terms in 2008, riding the wave of excitement over Obama's initial candidacy.

By contrast, Democratic candidates in this year's most competitive Senate races did whatever they could to distance themselves from the president. Obama largely limited his campaigning to candidates in solidly Democratic territory. In a sign of the grim outlook for Democrats, the party had to scramble in the final days to help incumbents who suddenly found themselves in danger.
A house divided
Overall, at stake Tuesday were 36 of the 100 Senate seats, all 435 House districts and 36 of 50 governors' seats. The spending was unprecedented for a non-presidential year. Congressional races alone cost an estimated $4 billion.

Republicans needed a pickup of six seats to take control of the Senate. Three were almost assured - West Virginia, Montana and South Dakota - after long-time Democratic incumbents retired. They also defeated Democratic incumbents in Arkansas, Colorado and North Carolina and won a Democratic-held seat in Iowa left open by a retirement.



Republican gains could continue. Several races are undecided and one, Louisiana, is headed for a Dec. 6 runoff after no candidate won a majority.

Democrats had braced for a tough night, but hoped that gubernatorial races might be a bright spot. But they had setbacks in two races with implications for the 2016 presidential race.

In Florida, Republican Gov. Rick Scott defeated Republican-turned-Democrat Charlie Crist. The vote was closely watched to see how White House contenders might vie for the largest battleground state in 2016.

In Wisconsin, Gov. Scott Walker turned back a strong challenge from Democrat Mary Burke. Walker's victory boosts his prospects as a potential presidential candidate.

Republicans also won governorships in several reliably Democratic states, including Massachusetts and Maryland.

In the House, only a few dozen races were truly competitive. The dominant parties in state legislatures tend to carve out congressional districts to maximize the number of seats their parties can win, a process known as gerrymandering.

With dozens of House races uncalled, Republicans had picked up 11 seats in Democratic hands, and given up only one.

A net pickup of 13 would give them more seats in the House than at any time since 1946.

Speaker John Boehner, in line for a third term as head of the House, said the new Republican-controlled Congress would vote soon in the new year on the "many common-sense jobs and energy bills that passed the Republican-led House in recent years with bipartisan support but were never even brought to a vote by the outgoing Senate majority."

The victory in the Senate means McConnell will likely fulfill his longtime dream of becoming majority leader, one of the most powerful positions in Washington. McConnell is a conservative with little charisma, but sharp political skills. He's opposed Obama on health care reform and other issues, but also helped broker bipartisan deals that ended last year's government shutdown and averted a 2011 federal default.

Obama was at the White House as voters remade Congress for the final two years of his tenure -- not to his liking. With lawmakers set to convene next week for a postelection session, he invited the congressional leadership to a meeting on Friday.

Republicans will face challenges of their own as they take over the Senate. They won't have the 60-vote supermajority that's needed to pass major legislation. And they will face a tougher Senate election in 2016, when Republicans elected in the anti-Obama wave of 2010 will be defending seats in states that lean Democratic.

Also, Republicans could feel pressure to show more leadership, beyond standing in opposition to Obama. That's especially critical as attention shifts to the 2016 president race. Republicans have a wide field of possible candidates, with no clear front-runner. Among the Democrats, former Secretary of State Hillary Rodham Clinton is the clear favorite, though she has not said if she will run.