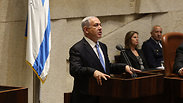 Netanyahu at Knesset memorial for Rabin
Photo: Gil Yohanan
Prime Minister Benjamin Netanyahu invited Wednesday night the defense minister, internal security minister, chief of police, and other officials for a consultation in the wake of terror attack in Jerusalem.

At the same time, top Israeli officials laid the blame for the deadly attack on the leader of the Palestinian Authority. Netanyahu and senior ministers repeatedly stressed that the person responsible for the bloodshed was Mahmoud Abbas.

Netanyahu declared that the "terror attack in Jerusalem today was a direct result of actions by Abu Mazen and his partners in Hamas."

Defense Minister Moshe Ya'alon said that "Abu Mazen hasn't changed and will never change." Foreign Minister Avigdor Lieberman stated that the attack was a direct result of the Palestinian leader's incitement, while Economy Minister Naftali Bennett called him a "terrorist in a suit."

At Wednesday's official memorial service for assassinated prime minister Yitzhak Rabin, Netanyahu said peace would only arrive when Abbas stopped calling Jews "impure" and stopped embracing their killers.

"In recent days we have witnessed a growing incitement by the Palestinian Authority leader Abu Mazen, including the sending of condolences to the family of Yehuda Glick's assassin and the call to prevent in any way the entry of Jews to the Temple Mount. This incitement leads to actual acts on the ground," Netanyahu said.

The defense minister released a statement on the attack. "Abu Mazen's inflammatory rhetoric – which on one hand disseminates hate speech and falsehoods against Israel and on the other lauds and praises Palestinian terrorists who attack Jews – is responsible for the bloodshed in Jerusalem."

Ya'alon added: "Abu Mazen has not changed and will not change. He will continue to tarnish Israel and incite the Palestinian population against it from atop stages across the world."

Border Patrol officer Jaddan Assad was named as the Israeli murdered Wednesday afternoon in a terror attack in Jerusalem.

In the hours after the attack, riots erupted in Old City flashpoints, with dozens of Palestinians lighting trash on fire and hurling rocks at police and Border Patrol officers.

The attack on Wednesday was the second such incident in two weeks in the holy city, the scene of daily Palestinian protests amid tensions over a sacred compound Muslims revere as Noble Sanctuary and Jews as Temple Mount.

On Oct. 22, three-month-old Haya Ziesl Baron and Ecuadorian Karen Mosquera (22) were killed when a Palestinian man named as Abed a-Rahman a-Shaludi plowed his car into a crowd of people waiting at the Ammunition Hill station of Jerusalem's Light Rail.

Moran Azulay and Omri Efraim contributed to this report.