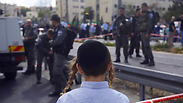 Scene of the attack
Photo: AP.
For nine hours, 17-year-old yeshiva student Shalom Baadani of Jerusalem lay in critical condition in the Hadassah Medical Center in Jerusalem's Ein Kerem on Wednesday, his status logged as "anonymous."

Baadani arrived at Haddasah after being wounded in the vehicular terror attack on Wednesday afternoon. Rescue personnel used a cellphone found at the scene of the attack to identify the patient, comparing images on the phone with the victim. Police then found his parents, who were summoned to the hospital and confirmed his identity.




Baadani arrived at the hospital in critical condition with a serious head injury. Hospital staff found no documents hinting at his identity. As the hours passed and no one inquired after him, the mystery deepened.

Management said they were not responsible for identifying him, and in any event were giving devoted care. However, they contacted relevant bodies to try and discover who the man was. The hospital reached out to police and the Shin Bet to cross-check with their information on missing persons.

Apparently, Baadani was riding a bicycle when he was hit by the terrorist. His parents never worried, because they knew he was supposed to return home late at night.

Baadani is the grandson of a member of the Shas Party's Council of Torah Sages, Rabbi Shimon Baadani. Among the hospital visitors was MK Eli Yishai.

The perpetrator of the terror attack, Ibrahim Al-Akari, 38, was a father of five from the Shuafat refugee camp. His brother is Musa al-Akari, a member of the Hamas cell that murdered border police officer Nissim Toledano in 1992, who was deported to Turkey in the Shalit deal.

Wednesday's attack only stopped when an officer and four soldiers shot and killed the terrorist.

The officer described events: "The terrorist opened the door, ran out with an iron bar, and began to hit vehicles and civilians. We commenced shooting in order to neutralize him. I haven't a shadow of a doubt that any soldier would have done the same."