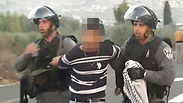 Police arrest a Palestinian rioter in Kafr Kanna on Saturday .
Photo: Hassan Shaalan
Police were on high alert throughout Israel on Sunday morning, with the level of alert raised to the second highest since the start of Operation Protective Edge in the summer. Hundreds of police and special forces have been deployed in the north to prevent an expansion of disruptions of order that erupted after police killed a young Arab man in northern Israel. Schools and businesses in the Arab sector were to strike Sunday in protest.

Police have bolstered their presence in the areas where they expect further protests over the killing of Khair Hamdan, 22, in Kafr Kanna, an Arab town close to Haifa. Forces from the north who had been deployed in Jerusalem in recent days have been returned.

Border Police have reinforced their numbers in the north, and the Sharon District police has also increased its numbers, fearing riots in Arab cities Sunday. Police and SWAT forces will be armed with riot control measures. The police has repeatedly warned that law-breaking would not be tolerated.

Meanwhile, there was continuous rioting and upheaval Saturday evening in northern Israel and in Jerusalem.

Rioters threw rocks at an Egged bus on Route 65, a major highway in northern Israel that connects Hadera to the Galilee, lightly wounding two passengers.

In another incident, a three-year old boy was taken to Hadassah Medical Center, Ein Kerem with a light head wound from rocks hurled by Palestinians at a vehicle on Route 60, which stretches from the southern city of Be'er Sheva to Nazareth.

Riots in Kfar Kanna (צילום: חסן שעלאן)

On Friday, clashes erupted between police and Palestinian rioters in the Abu Tor neighborhood in East Jerusalem, and fireworks and stones were launched at police in the Wadi Joz and Sur Baher neighborhoods of East Jerusalem. Rioting also took place in Shuafat in East Jerusalem.

Questions were raised about the circumstances of the Kafr Kanna shooting, after a video from a private security camera showed Hamdan trying to unsuccessfully break the windows of a police van with a knife. When officers got out of the van, Hamdan appeared to retreat before at least one officer shot him with a pistol. The officers then took Hamdan into their police vehicle and took him to HaEmek Medical Center where he died of his wounds.

Footage from the shooting incident

The footage of Hamdan's alleged retreat caused uproar by the Arab sector, who claimed Hamdan was unjustly shot. Arab MK Ahmed Tibi called the incident a "mafia-style killing," while others said he had been shot dead only because he was Arab.

Prime Minister Benjamin Netanyahu issued a statement Saturday night that appeared to back police and condemn the protests.

"Israel is a nation of law. We will not tolerate disturbances and rioting. We will act against those who throw stones, block roads and call for the establishment of a Palestinian state in place of the State of Israel," he said. "Whoever does not honor Israeli law will be punished with utmost severity. I will instruct the Interior Minister to evaluate revoking the citizenship of those who call for the destruction of the State of Israel."

Police spokeswoman Luba Samri said the police's internal investigations department was investigating the incident to determine whether proper protocol had been followed. The department is a civil, independent unit outside the chain of command, which answers to the attorney general.

Samri said a police cruiser was in the village seeking to arrest a man who had hurled a stun grenade at police. She said Hamdan, who is a relative of the suspect, then confronted police and tried to stab them, putting their lives in danger.

"The deceased attempted to stab police officers during the arrest of one of the residents. As a result, they shot him. We are continuing to investigate the incident," the police said in response to the incident.

Internal Security Minister Yitzhak Aharonovich said that the incident is currently under investigation, and called for restraint until the results of the investigation are released.

He said that the police officers had feared for their life after "a man armed with a knife attacked them with the aim to harm their lives, and therefore they reacted the way they did."

The minister also slammed those inciting violence for their own ends, and called for restraint.

"I have no other option but to deplore heated responses of certain individuals who are attempting to win political capital and to enflame an entire sector in an irresponsible manner. I will continue to back up police officers who are fulfilling their loyal duty of keeping order and security of the public and I call on everyone to exercise restraint and calm the winds," said Aharonovich.

"A terrorist who attacks citizens is liable to be killed," said Foreign Minister Avigdor Lieberman on Saturday, echoing the sentiments Aharanovich's sentiments.

He also showed his support for police's actions "in the spirit of zero-tolerance for terrorism."

"Incidents such as the ones which have occurred in the past couple of days and yesterday, in which terrorists attempt to hurt innocent citizens, are grave incidents, and must be treated accordingly – with determination and efficiency," said Lieberman.

The police officers involved in Friday night's incident in Kafr Kanna were part of a police unit known as "Organ" of Nazareth. The unit was created to combat the issue of illegal arms in Arab towns. One unit works in Nazareth and another in the Karmiel region in northern Israel.
Haifa protest
Some 200 people from the Israeli Arab political party Hadash protested along with other Islamic organizations in Haifa on Saturday night, following the Kafr Kanna incident and the conflict over the al-Aqsa mosque.
The Hadash protesters held signs that read, "Two countries for two nations," and called for the establishment for a Palestinian state with "East Jerusalem as its capital."
Secretary of the Hadash party in Haifa, Raja Zaatara, said the protests were held against the trampling of the agreements at the Temple Mount and in Jerusalem.
"The government is trying to change the conflict into an insolvable religious war, but this is a political conflict and its solution is known," said Zaatara.
At the other end of the street, members of the Islamic Movement protested along with residents of Kafr Kanna and Balad party members. They waved Palestinian flags and shouted condemnations of the settlers.
They also called for the "strengthening of the intifada," and chanted, "With blood and fire we will redeem Palestine."
A counter-protest was held at the site, cionsisting mainly of Likud members.
Ohad, one of the protesters said, "It's frightening that pro-Palestinian protests and encouragement of an intifada has reached Haifa. Maybe they want to move it here, but we won't let them."
Hassan Shaalan, Ahiya Raved, Noam (Dabul) Dvir, Raanam Ben-Zur, and Omri Efraim contributed to this report.