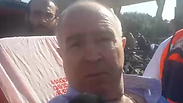 Gilad Goldman at the scene of the attack
Gilad Goldman, in his 50s, was driving by the Haganah Train Station when he noticed an ongoing terror attack on Monday afternoon – and jumped into action. "I got out of my car and saw him assaulting and stabbing the youth."

Speaking to Ynet before he was evacuated to Ichilov Medical Center in Tel Aviv, Goldman recounted the horrifying incident. "I punched him in the face. He dropped the knife and began fleeing." He was lightly wounded during the struggle with the terrorist.

"I saw him lifting the knife towards the young man and then I saw the young man collapse," he added.

Goldman's friend was also involved in thwarting the scope of the attack. "We began to chase after him, screaming 'terrorist!' We saw that he was getting away quickly, so I went back to help treat the soldier and direct traffic so emergency personnel could arrive quicker."

But the two accidental heroes were disappointed with the response time of emergency personnel. "We waited a long time until the ambulance came."

The soldier was stabbed after a struggle with a Palestinian who attempted to grab his weapon at the Haganah Train Station in Tel Aviv. He was evacuated in critical condition to Sheva Hospital in Tel HaShomer. The suspect is 18-year-old Nur al-Din Abu Khashiyeh, a resident of Nablus illegally staying in Israel.

Security forces said there were no specific warnings of such an attack. It appears likely that the suspect acted alone and without planning, much like the attacks in Jerusalem.

Tel Aviv Police Chief Bentzi Sau arrived at the scene and wished the soldier a speedy recovery. "The first clear picture we have is that a soldier was attacked by a member of a minority group living in Nablus. He attacked him with a knife, stabbed several times, and attempted to take his weapon."

He added: "The stabber escaped and after 200 meters from the scene of the attack he first came into contact with police forces. From here we have coordinated the investigation with the Shin Bet."