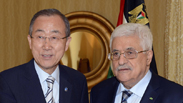 Abbas with UN chief Ban Ki-moon
Photo: AFP
Palestinian President Mahmoud Abbas on Tuesday accused Israel of dragging the region into a religious war and vowed that the Palestinians would never agree to Jewish prayer on the Muslim-controlled Temple Mount.

"Israel's leaders are making a huge mistake if they think they can now establish facts on the ground and divide prayer times at the al-Aqsa Mosque as they did at the Cave of the Patriarchs," he said in a fiery speech in Ramallah to mark the tenth anniversary of Yasser Arafat's death. "By doing these things they are leading the region and the world into a devastating religious war."

Speaking after weeks of clashes between Israeli security forces and Arab residents of East Jerusalem, as well as a series of terror attacks in Jerusalem, Abbas also repeated the Palestinian pledge to make East Jerusalem the capital of a Palestinian state.

"The Muslim and Christian world will never accept Israeli claims that Jerusalem is theirs," he said. "Jerusalem is our capital and we will never give this up; Jerusalem that was occupied in 1967 is our Jerusalem. We will safeguard and protect our holy places."

The Palestinian leader also blasted "the daily incursions and attacks from the settlers and the leaders of the Israeli occupation army."

He went on to praised the Muslims who are continually present at the Temple Mount to ensure that visitors to the site, which Jews believe was the location of the first and second temples and now houses the al-Aqsa Mosque, do not pray there.

"They ask us who are these guardians? They sit at al-Aqsa and the Church of the Holy Sepulcher to pray and to protect. And if (the Israelis) attack them, it is their right to defend themselves the holy places. Keep the extremist settlers away from the al-Aqsa mosque and our holy places. Don't let the our holy sites be contaminated, Keep them from us and we will stay away from them."