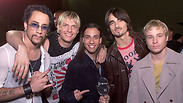 The Backstreet Boys are heading to Israel in the spring of 2015
Photo: Gettyimages
After cancelling three concerts in Israel last summer due to Operation Protective Edge, popular American boy band The Backstreet Boys has set new dates for its performance in the Holy Land.

The group will perform at the Raanana Amphitheater on May 19, 20 and 21. Ticket prices will range from NIS 359 to NIS 995 ($95-260), depending on the seat location. Fans who have purchases tickets from any of the original concert dates will be able to use their tickets for the new shows.

Political Message?

Amit Cotler and Ran Boker

International production of British pop legend's show asks Israeli producer to advertise next year's Tel Aviv concert in both Hebrew and Arabic.

The Backstreet Boys was founded in Florida in 1993 and consists of Nick Carter, AJ McLean, Howie Dorough, Brian Littrell and Kevin Richardson. The band boasts sales of more than 130 million albums.

The band's eponymous debut album was a huge success, including hits such as "I'll Never Break Your Heart" and "Get Down," as was the second album, "Backstreet's Back," which included the huge hit "As Long As You Love Me."

The success continued with the third album, "Millennium," which included the band's most popular song, the worldwide hit single "I Want It That Way."

Like other 1990s boy bands, the Backstreet Boys found it difficult to repeat their success in the 2000s, although they remained popular in the United States.

Backstreet Boys member AJ McLean said in August that he was very disappointed the band had to postpone its arrival in Israel, "especially for all of our fans."

He said the decision was not a political one, but had to do with safety issues. "You know, all of us have families," he told a TMZ website reporter. "Had they kept the ceasefire, we may have still gone, but you just don't know and it's just not worth running that risk.

"We've got the most loyal fans there. They've been waiting for years for us to come. It sucks for all of our fans there, but we are definitely coming back and we'll be there next year," he promised.