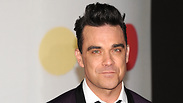 Robbie Williams
Photo: Gettyimages
The international production of Robbie Williams' concert in Israel next year has asked the show's producer in Israel to promote the concert in both Hebrew and Arabic.

The British pop legend will perform at Tel Aviv's Yarkon Park on May 2.

Hot Summer

Successful American pop rock band will perform in Holy Land in summer of 2015.

Ynet has learned that before the ads were released, the production in Britain submitted a clear request to Israeli producer Gad Oron to advertise the show in English as well.

It is unclear whether the instruction to add advertisements in Arabic was politically-motivated.

Williams' producers abroad "asked to approve every advertisement, which is a pretty common thing," a source with knowledge of the details told Ynet. "But what was less common, and this is the first time I have encountered such a thing, was that they asked that every ad would be translated into three languages: Hebrew, Arabic and English.

"I personally believe there is no political message here, but that's only my opinion," the source added.

This is quite a rare request in Israel. So far, there hasn't been a single international show which was promoted on the media in Arabic in addition to Hebrew – including in the case of performances by artists who active for world peace, like Madonna.

Messages and captions in Arabic were screened during Leonard Cohen's 2009 concert at the Ramat Gan Stadium, but there were no ads in Arabic ahead of the show.

The Robbie Williams concert's production team offered the following response: "We were asked to publish the ads in four languages – Hebrew, Arabic, Russian and English. He is not the first artist to make this request. So did Charles Aznavour."