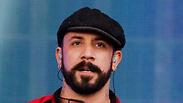 A.J. McLean. 'We've got the most loyal fans in Israel'
Photo: MCT
Backstreet Boys member A.J. McLean says he is very disappointed that the American boy band could not perform in Israel in late July, "especially for all of our fans."

He said the decision was not a political one, but had to do with safety issues. "You know, all of us have families," he told a TMZ website reporter. "Had they kept the ceasefire, we may have still gone, but you just don't know and it's just not worth running that risk."

Good News

Veteran Canadian singer stands by his promise to return to Holy Land after IDF operation in Gaza. Tickets purchased for cancelled July concerts will be valid for new dates.

According to MacLean, the group's Holy Land show hasn't been canceled but only postponed.

"We're going to come back hopefully March-April," he said. "We've got the most loyal fans there. They've been waiting for years for us to come. It sucks for all of our fans there, but we are definitely coming back and we'll be there next year."

Asked if he had a solution for the situation in the Middle East, MacLean replied: "I don't know, it's so hard to really think. It's a really unfortunate circumstance and women and children are dying and planes are being shot out of the sky. Violence doesn't help anything, but hopefully everyone can come to an agreement and see eye to eye. I'm just hoping that it ends sooner than later.

"It's a horrible thing going on down there," he added. "We're definitely praying for both sides, obviously. You can't take a side."

The Backstreet Boys were scheduled to perform at the Ra'anana Amphitheater on July 29, 30 and 31. All concerts were sold out. The band members said in a statement issued last week that they were disappointed about having to cancel the show as they had been looking forward to visiting Israel for the first time and meeting their fans.

They added that they were working on new dates for the show and would inform the ticket purchasers as soon as possible. They concluded the statement by sending their love to everyone in Israel.