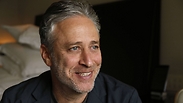 Jon Stewart criticizes right-wing Jews who try to define who is Jewish and who is not.
"Daily Show" host John Stewat hit back at critics who called him a self-hating Jew after he made critical remarks about Israel, saying they were "fascistic."

After being heavily criticized for his opinions on Israel, Stewart, who is host of the satirical The Daily Show, sat down for an interview with Canada.com at the Toronto Film Festival where his new film "Rosewater" was released and discussed his views on Israel and Judaism.

US-Israel Row

Despite the severity of the defense minister's comments about John Kerry's peace efforts, which he dubbed 'obsessive' and "messianic,' Jon Stewart manages to find humor in the row between Israel and the US.

"It's so interesting to me that people want to define who is a Jew and who is not. And normally that was done by people who weren't Jewish but apparently now it's done by people who are, and I find that very interesting. It's more than nationalism," said Stewart.

Stewart criticized right-wing Jews as being "fascistic" for saying that they are the only ones who can decide what it means to be Jewish and who is a Jew. "How dare they? That they only know the word of God and are the ones who are able to disseminate it. It's not right. And its something that they're going to have to reckon with," Stewart said.

In response to people who compared him to Jews who turned their backs on each other during the Holocaust he said, "I have people that I lost in the Holocaust and I just … go f-ck yourself. How dare you?"

He also hit back at those who criticized his position on Israel, saying "I always want to say to people when they come at me like that: 'I would like Israel to be a safe and secure state. What's your goal?' So basically we disagree on how to accomplish that."

Stewart said he thought that the harsh criticism of those who disagree with Israeli policy stems from the abuse that Jews have experienced historically. "The danger of oppression is not just being oppressed, it's becoming an oppressor. Because that will deteriorate a society as quickly as being oppressed," said Stewart.

Stewart reacted to announcements of continued settlement building by Israel and said, "A thousand more acres in the West Bank? Why?"

Stewart's new film "Rosewater" was filmed in a Jordanian prison and was based on a memoir entitled "Came for Me" that was written by Canadian Iranian journalist and filmmaker Maziar Bahari.

Bahari was imprisoned while covering the Iranian elections in 2009 for Newsweek.

The release of the film prompted accusations from Iran that Stewart was a CIA and Mossad agent. In the cananda.com interview, Stewart said the allegations were humorous to him "in the same way that a lot of what happens in the movie is humorous to me."