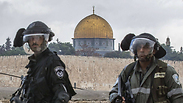 Israeli security at the Temple Mount
Photo: AFP
Men of all ages will be allowed to attend the main weekly Muslim prayers Friday at Jerusalem's flashpoint Al-Aqsa mosque compound for the first time in "months and months," a police spokesman said.

"No age limit on the Temple Mount, we're hoping things will be calm and quiet today," spokesman Mickey Rosenfeld told AFP.




The decision to lift restrictions on Temple Mount entrance came after Prime Minister Benjamin Netanyahu, US Secretary of State John Kerry and Jordan's King Abdullah II met Thursday evening in Amman to discuss the rising tensions in Jerusalem.

Furthermore, the barricades blocking the path from the Arab neighborhood of Isawiya in Jerusalem to the French Hill were also lifted.

"In the trilateral meeting we discussed specific and practical actions that both sides can take to restore calm. The Jordanians and the Israelis have agreed, the Jordanians as the historical cushioned of the Haram al-Sharif (Temple Mount), and the Israelis have worked to… make sure they deescalate the situation and that the steps they take will instill confidence the status quo will be maintained," Kerry said at a press conference Thursday.

"There are firm commitments from (Jordan) and Israel that they will take these steps," the secretary said, adding that "Netanyahu strongly restated his commitment to maintain the status quo to prevent further escalations."

A senior diplomatic source spoke to Ynet and said the meeting between Kerry and King Abullah lasted three hours, and included direct meetings between Kerry and Netanyahu, as well as Netanyahu and the king, in addition to the trilateral meet.

Netanyahu reportedly said that there was a need to stop incitement and fabrication regarding Israel and the Temple Mount which he said were the source of violence. The source said Netanyahu vowed to maintain the status quo but also said Israel would continue to protect its citizens, and urged local leaders to work for calm and stop incitment.