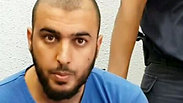 Sallah al-Din Mahmeed is suspected to have infiltrated Syria with his wife to join the Islamic State
Photo: George Ginsburg
Israel police suspect an Israeli-Arab teacher from Umm al-Fahem infiltrated Syria with his wife through Turkey and joined the Islamic State group.

The teacher, Sallah al-Din Mahmeed, 24, was arrested two months ago on the suspicion he smuggled objects related to the Islamic State group to Israel from Jordan, and charged him with showing solidarity with a terrorist organization or unlawful association.

After his arrest, the Hadera Magistrate's Court placed Mahmeed on house arrest for five days and he was later released unconditionally. The prosecutor's office is still holding hearings to decide whether to indict him in the case.

A high-ranking police source told Ynet that "according to the information we received, the suspicion has arisen that the teacher and his wife traveled to Jordan, crossed over to Turkey and then infiltrated Syria. It looks like their goal was to join the Islamic State group."

Related stories:

Residents of Umm al-Fahem and neighboring villages also said that Mahmeed infiltrated Syria after his release.

One resident of Umm al-Fahem said that "everyone is surprised and did not expect that this sort of thing could happen. I understood that the teacher and his wife underwent long searches before they were let into Jordan."

Mahmeed began teaching just two months ago, a little while after he married his Russian wife, who converted to Islam. He is related to Rabiya Shahade, who left his home and his family in Nazareth a year ago and infiltrated Syria to join the Islamic State.

Another man who knew the teacher said "What we know is that he infiltrated (Syria). We tried to contact him but were not successful."

Mahmeed's family strongly denied the claims. According to them, the teacher traveled to Turkey on a trip with his wife.

In early September, Minister of Defense Moshe Ya'alon decreed the Islamic State as an unlawful organization, with the advisement of the Shin Bet. The step enabled legal actions be taken against the organization, recruitment to the organization, and other actions associated with the Islamic State.