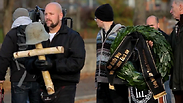 Neo-Nazis march in Wunsiedel
They keep coming back year after year. Since the 1990s, neo-Nazi demonstrators invade the village of Wunsiedel in south Germany every November to commemorate the National Heroes' Remembrance Day by visiting the grave of Adolf Hitler's Deputy, Rudolf Hess, which was located in the village until it was dissolved in 2005 when the lease agreement ran out.
The almost 1,000 inhabitants of Wunsiedel have been trying to stop these demonstrations every time, to no avail. They held counter demonstrations and formed action groups dedicated to tolerance, commitment and moral courage.
This year Wunsiedel gave it another try – with a completely new approach.
Even though the number of neo-Nazis decreased after reaching its peak in 2004 with 4,500 protesters, and they were repeatedly barred by the courts from holding their demonstration, the neo-Nazis have yet to give up their so-called annual "March of Remembrance".
Instead of taking the neo-Nazis seriously, this time they decided to play a prank on them. Under the slogan "Right against right: ("rechts gegen rechts"), Wunsiedel's residents gave the neo-Nazis' march a new purpose.
For each meter the neo-Nazis marched last Saturday throughout the village, local companies donated 10 euro for a project called "Exit", a NGO that supports neo-Nazis who are ready to leave the milieu.
The neo-Nazis themselves only learned of the villagers' prank while their march was already underway, walking through the village and carrying their flags and wreaths solemnly.
To make them aware of what they were inadvertently taking part in, the people of Wunsiedel put up colorful posters along their route, thanking the neo-Nazis for their participation.
"Wenn das der Führer wüsste" ("If the Führer would know") said a pink banner they had to walk by, "Brisk like greyhounds, tough like leather, and generous like never before" ("Flink wie die Windhunde, zäh wie Leder, grosszügig wie nie") said another one, in reference to former Nazi slogans from the Third Reich.
Even food was provided for the neo-Nazi protesters, who tried to ignore the prank as much as possible. Under a banner saying "Mein Mampf" ("My food") instead of "Mein Kampf" (the title of Hitler's book), the village offered bananas to the demonstrators.
On the pavement, village residents had placed landmarks informing the marching neo-Nazis how much money they had already raised by walking through the village – with a total of 10,000 Euro in donations collected for the NGO.