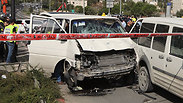 The car used by a Palestinian terrorist to run over Israeli civilians in Jerusalem a few weeks ago.
Photo: Gil Yohanan
Hamas released a video threatening acts of revenge after the death of Yusuf Hassan al-Ramouni, an Egged bus driver who was found hanged in a bu in Jerusalem on Sunday. Members of the Arab sector and al-Ramouni's family refused to accept the death was a suicide despite an official autopsy by the Forensics Institute reporting no foul play.

The video released by Hamas was made in colloquial Hebrew and warned of an "eye for an eye" and mentioned the previous hit and run attacks in Jerusalem as well as the death of the Arab bus driver.

Meanwhile, clashes broke out in the Abu Dis neighborhood in East Jerusalem between Palestinian rioters and Israeli security forces.

In East Jerusalem, residents have refused to accept the results of the autopsy of al-Ramouni. The bus driver's family said they did not accept the autopsy results and that al-Ramouni was "killed by the hands of Jews."

Molotov cocktailsa and fireworks launched at police in East Jerusalem.

In the Sur Baher neighborhood of East Jerusalem, a young Palestinian was caught throwing a Molotov cocktail towards an Israeli vehicle and hitting it on surveillance video in East Jerusalem.

Several other Palestinian riots were reported in various locations in East Jerusalem on Monday night.

Security forces clashed with Palestinian rioters in the Sur Baher, Wadi al-Joz, Al-Ram, and Abu Dis neighborhoods in East Jerusalem.

Israeli police said that stone throwing was reported near the Palestinian town of Sur Baher and that police forces used riot control measures against the Palestinian rioters.

Various Palestinian organizations called for a general strike of businesses, bus drivers and Arab officials as a protest against al-Roumani's death.

Egged bus drivers who were friends of al-Roumani did not show up to work on Monday causing public transportation delays in Jerusalem. The delays were expected to continue on Tuesday.

"After the unfortunate death of the Egged bus driver who put an end to his life and committed suicide, delays are occurring in Jerusalem's public bus lines. These delays are caused by the absence of drivers from the Arab sector, from East Jerusalem," Egged said in a statement.

"At Egged we are gathering former drivers and retired drivers of the company in order to minimize the affect on passengers. With that, Egged apologizes for the inconvenience and asks passengers to act with restraint and patience," Egged wrote in the statement.

Earlier on Monday, an IDF officer sustained a hand wound from a firework launched at security forces by Palestinian rioters near Ramallah. The soldier was taken to Hadassah Medical Center in Jerusalem with two of his fingers partially amputated.

Dozens of Palestinians threw stones and Molotov cocktails at Israeli security forces at security forces during the incident. IDF soldiers responded with riot control measures.

After the incident, Israeli security forces entered an Arab village in northern Jerusalem.

Increased Israeli police presence will continue in Jerusalem in the coming days.

Noam (Dabul) Dvir contributed to this report.