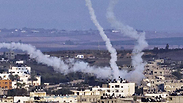 Rockets launched from Gaza during Protective Edge
Photo: AFP
Hamas launched four rockets towards the sea in less than 24 hours, the IDF said Thursday morning, noting the launches were part of the Gazan terror group's testing and development of its artillery capabilities.

Two of the rockets were launched Wednesday afternoon, one was fired at night, and the last launch occurred Thursday morning. The IDF, which had so far avoided officially addressing the rocket trials, published a response on its English Twitter page this morning.

According to Palestinian sources, at least 14 rockets were launched in recent weeks, with the tests ongoing for nearly two months.

The statement was published only in English by the IDF Spokesperson's Unit official Twitter account.

The armed wing of Hamas has increased the frequency of its homemade rockets' trials in recent weeks. According to Palestinian sources, the launches have been spread throughout the Strip and the majority of the rockets have been launched towards the sea.

The trials support the belief that Hamas has renewed its rocket manufacturing operations within the Strip, after the arsenal was heavily hit during Operation Protective Edge – but was not eradicated.

The length of the operation led to an overextension by Hamas of its long-range home-made rockets – the M75 variant which reached the Tel Aviv metropolitan area and beyond – and a severe dwindling of its stock.

At the outset of the campaign, Hamas held several hundred long-range rockets; by the operation's end, estimates placed the caches at a few dozen rockets. There are sources in the defense establishment which believe Hamas was sufficiently deterred by Israel after the summer's operation and is unlikely to renew hostilities in the near future.

The Gazan terror group has enforced the ceasefire stringently, taking action against Islamic Jihad cells which twice fired short-range rockets on Israel after the end of the operation.

Since Egypt cracked down on the smuggling tunnels under Rafah, Hamas stepped up its rocket manufacturing capabilities, reaching an impressive production rate before Protective Edge. It seems the armed wing has successfully been rehabilitating its infrastructure – less than two and a half months after the end of the campaign.

Elior Levy contributed to this report.