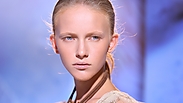 Ilana Goor design from the exhibition
Photo: Yaki Halperin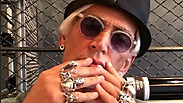 Avi Tenzer. 'If you can't tell stories, don't design'
Photo: 'Dream Weavers,' Beit Hatfutsot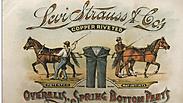 Levi Strauss' jeans, from 1899
Photo: 'Dream Weavers,' Beit Hatfutsot
What do Marc Jacobs, Sonia Rykiel and Ralph Lauren have in common? They have all paved their way to the top of the fashion world, they are all Jewish and they are all featured in a new exhibition at Beit Hatfutsot – The Museum of the Jewish People.

How did the traditional Jewish tailor develop into a glamorous empire which generates millions? The Tel Aviv museum "Dream Weavers" exhibition presents dozens of luxurious fashion items telling the story of the Jewish world of fashion.

Jewish Background

'A Family Portrait,' displayed at Beit-Hatfutsot, features collection of late English singer's belongings and allows fans to get a better grasp of her Jewish roots.

"The 20th century was undoubtedly the Jewish century," says Dr. Orit Shaham Gover, the chief curator of Beit Hatfutsot." World War II, and the Holocaust which cut in the middle, created a trauma and major rift, but nonetheless this is the century in which Jews made the most amazing leap of all: From the bottom to the highest level in every field, at a rate disproportionate to their representation in the population.

"'Dream Weavers' deals with the present, and creates a statement that maybe, after all, it's not so bad being Jewish, and Jews are not just 'oy, vey,' but also hallelujah."
Designing dreams
"The historic development of the Jewish tailor is particularly fascinating," says exhibition curator Shelly Werthime. "Jewish and Israeli designers are creating a culture, a brand, an image and a lifestyle. During our research, we suddenly discovered more and more famous names who are all of Jewish descent and all define their work as designing dreams.

"Ralph Lauren said, 'People ask how can a Jewish kid from the Bronx do preppy clothes? Does it have to do with class and money? It has to do with dreams. I don't design clothes, I design dreams.' And Alber Elbaz says, 'I design from my heart, making the fantasy, the dream, into a reality.'

"This is the line I found among many of the designers in the exhibition – the dreamy, poetic place," says Werthime.

The new exhibition takes visitors through three display halls. The first describes the Jewish history of dressmaking, starting with the Jewish Tailor Statue which still stands in Manhattan, a tribute to the Jewish tailors from Eastern Europe who made the world of fashion what it is today, through the infamous sweatshops, all the way to the top.

"It didn't start in the United States," Shaham Gover clarifies. "In Poland as well, on the eve of World War II, 45% of the textile industry was owned by Jews, and it continued after World War II – in Paris, for example, and in other places.

Naturally, part of the exhibition is dedicated to Levi Strauss, who invented the jeans which became a symbol of the American dream.

Werthime and her team turned to the biggest name in the industry. "That was one of the most fascinating parts," she says. "Their precision about every word said to them, how seriously they take their work. You understand just how they reached the place they are in now.

"Obtaining the permits required different procedures of course. Creating a fashion exhibition which is not dedicated to one designer is not an obvious thing. But at the end of the day it's a cultural exhibition, which celebrates these designers' achievements, and they kind of realized it and even felt it was a privilege to take part in it."
Mother's dress
Avi Tenzer is one of the leading Israeli designers abroad. He owns a Canadian consulting firm in the design area, with leading customers like the ALDO shoe chain.

"Aharon Castro (the founder of Israeli fashion house Castro) taught me to understand what is important in fashion, and he told me that if you can't tell stories – don't design," Tenzer says.

"The dress I designed for the exhibition is a fantasy, a dress born from my memories of my mother, who was born in Egypt to a ninth generation from Israel. My mother always wore black. Black like the night, like an escape or a dream, and that's my story. In a dream you reinvent yourself."

Tenzer has been living in Canada for several decades now, but is connected to Israel with all his heart.

"I always mention that I am Israeli and I feel very Israeli and very Jewish," he says. "Everything I do is an Israeli design, because that's who I am. And of course the place of daring, being cheeky, asking people for favors – that also comes from there."
No room for mediocrity
And where is the next generation of Jewish designers hoping to make a breakthrough. Inbar Spector, who has been active in London for the past decade with fashion and creativity which the Brits have become very fond of, personally experiences the concept of "the wandering Jew."

"An Israeli designer moves abroad, and automatically becomes a Jew," she says. "I didn't feel that in Israel, because most of us are Jewish here. I had friends from the Soviet Union who told me that they were Jewish there, and now they are Russian here. Your identity slightly changes when you move.

"My grandparents managed to escape to Israel before the war. My grandfather made a living from photographing British soldiers. He died when my father was a child, and I never knew him. His entire livelihood was from British people, and suddenly I'm in Britain and my entire livelihood comes from British people. We are both in Europe, and only the war separates between their two periods. All kinds of weird connections.

"My Jewish identity lives within me. I can't put my finger on something specific, although I think that my ambitions are something very 'Jewish.' If you create a stereotypical prototype, then Israelis are very ambitious and as an immigrant you try to be better than everyone else.

"You are alone, on your own, without roots and without a family, and the reason immigrants stand out is because they really try. They have to be the best. There is no room for being mediocre, otherwise they will drown out. It seems that after so many years in the Diaspora, this trait also has something very Jewish at the end of the day."

"Dream Weavers" is a significant step in the transition of the Beit Hatfutsot museum – from a home of the bleeding history of the Jewish people to live and contemporary Judaism.

"The new Judaism museum, which is at its construction stages, aims to paint a different picture," says Shaham Gover. "We have gone through dark period, but we survived because we also had periods of prime and prosperity. We can look back in pride, not just tearfully."