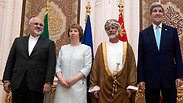 Iran's Zarif with Kerry and EU's Ashton
Photo: Reuters
US Secretary of State John Kerry and Iranian Foreign Minister Mohammad Javad Zarif are working on new proposals aimed at breaking the deadlock in nuclear talks between Tehran and six world powers, sources close to the talks said on Friday.
The sources, who spoke to Reuters on condition of anonymity, said the top Iranian and US diplomats were preparing ideas that could be shown to both countries' capitals. No details on the ideas were immediately available. "Discussions are continuing," said a senior US official, who declined to discuss details about the negotiations.
Video: Reuters (צילום: רויטרס)
One source said it was too early to say whether this latest joint effort indicated an actual narrowing of the wide differences between Iran and the powers. Iran rejects Western allegations that it has been seeking to develop a nuclear bomb capability.
Kerry was set to hold a meeting with Zarif on Friday evening, a US official said, hours after his spokeswoman said he would leave the nuclear talks for meetings in Paris. The US official did not elaborate or say when the meeting would start.
Zarif on Friday canceled plans to depart from nuclear talks and return to Tehran for consultations with top officials in Iran three days ahead of a deadline for a final agreement.
"The talks have not reached a stage that necessitates Zarif to go to Tehran," an unnamed senior member of the Iranian delegation told Iranian news agencies ISNA and IRNA. "Therefore he is not going to Tehran and the talks will continue."
Kerry initially decided to pull back from nuclear talks, leaving Zarif to ponder an apparent new proposal from Washington meant to bridge differences standing in the way of a deal with less than four days to deadline.
Meanwhile, Russian Foreign Minister Sergei Lavrov and Kerry agreed "additional efforts" were needed to reach a deal on Iran's nuclear programme by a Nov. 24 deadline, Russia's Foreign Ministry said on Friday.
"The sides did not rule out the possibility of holding a ministerial meeting of the parties to the talks on Iran's nuclear programme, if the prospect for progress appears," the ministry said in a statement after the two ministers spoke on the telephone.
Kerry was reportedly heading for Paris where he will be consulting with European counterparts. Diplomats said French Foreign Minister Laurent Fabius and British Foreign Secretary Philip Hammond were also leaving the Vienna talks after arriving earlier in the day.
Expectations are growing that the Monday deadline for a full deal will be missed because of differences on how much Iran needs to reduce the size and scope of key nuclear programs. Both the Iranians and the six world powers negotiating with them must soon decide whether to go beyond Monday or adjourn to a later date. They may also opt to end negotiations, but that is unlikely.
Officials from the US, Russia, China, Britain, France and Germany are seeking to reduce the potency of Iran's nuclear program and slow its technical ability to produce atomic weapons. Iran denies seeking such arms, but is negotiating in pursuit of relief from international sanctions.
Western diplomats told Reuters earlier this week that a US-drafted proposal shown to Iran at talks in Oman earlier this month called for the Islamic Republic to reduce the number of its uranium enrichment centrifuges to 4,500, well below the current number of centrifuges Tehran has.
Sticking points
Iran has roughly 19,000 centrifuges installed and about 10,000 in operation. Iranian officials say they refuse to reduce the volume of uranium they are capable of enriching, which Western officials say is unacceptable. That is a major sticking point in the talks.

Another sticking point is the lifting of sanctions. Iran wants them terminated swiftly, not suspended and later terminated as Western powers are calling for.

Western and Iranian diplomats in Vienna told Reuters that Zarif was expected to return to Austria during the weekend.

It was not clear when Kerry will be back in Vienna. State Department spokesman Jen Psaki said he was leaving "for consultations with his European counterparts about the ongoing Iranian nuclear negotiations".

"He will also stay in close touch with his inter-agency colleagues in Washington," Psaki said. "His future travel schedule is still being finalized, and we have not yet determined when he will return to Vienna."

French officials said Fabius would head back to Paris later on Friday and was also set to return over the weekend.

Zarif, Kerry and Fabius were holding a series of different meetings in Vienna on Friday with European Union envoy Catherine Ashton and British Foreign Secretary Philip Hammond.

"We have to get more flexibility from the Iranians," Hammond told reporters upon arrival. "In return we are prepared to show some flexibility on our side. But time is short, we are up against a deadline here."

Hammond also said Iran and the six world powers have "a long way to go" to get a final agreement.

Western diplomats said Iran has so far shown no flexibility and all the compromise proposals have come from the six. Iran rejects allegations by Western officials and their allies that it is amassing the capability to produce atomic weapons.

AP and Reuters contributed to this report