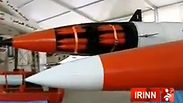 Iran supplied Hezbollah with missiles capable of reaching the nuclear reactor in Dimona, semi-official Fars News Agency reported. The Fateh (Conqueror) model missile – carrying a 500 kilogram warhead and flying at up to 4,500 kph – has a range of 250 to 350 kilometers.

Ynet's defense expert Ron Ben-Yishai noted that the Iranian missiles are considered to be more accurate than previous models. The missiles made their way to Hezbollah through Tehran's ally, Syria.

According to foreign reports, Israel attacked a shipment of similar Fateh-110 missiles last year near the airport in Damascus.

"The new missiles will allow Hezbollah to hit anywhere in Israel," Revolutionary Guard Brigadier General Sayed Majid Moussavi told Fars. The report from the semi-official news agency emphasized that Tehran believed supplying weapons to Hamas and Hezbollah to confront "the bloodthirsty Zionist enemy" was a central component of its strategy.

Last week, another senior Revolutionary Guard official, Brigadier General Amir Ali Hajizadeh, revealed that the missile manufacturing plants used by the Syrian military were planned and constructed by Iran. He added that similar factories, and training services, were supplied to Hezbollah and Hamas.

The Fars report did not include any additional details or whether the new missiles were manufactured in Lebanon or transferred to Hezbollah already constructed.

The inflammatory report was published some 48 hours ahead of a final deadline for a nuclear deal between Iran and Western powers.