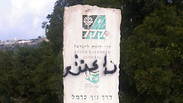 Defaced Druze monument
Photo: Israel Police
Graffiti supporting the Islamic State radical group was discovered this weekend on a monument dedicated to Druze killed in Israeli wars, at the entrance to a Druze town, Daliyat al-Karmel, near Haifa.

Islamist graffiti was also found on a walking trail near an eastern neighborhood of the town. The incidents mark the third time Daliyat al-Karmel has seen Islamic State slogans spray-painted in the area.

Similar graffiti was discovered in Ussefiya, where three youths were identified as suspects in the case and released on limited terms.

Police say the spray-painting of the monument was undertaken in recent days. After the graffiti was discovered, local inspectors were dispatched to the scene to erase the spray-painted slogans.

Haifa Police is investigating the incident, following several leads, including the possibility wayward youths had spray-painted the monument after drinking heavily at the site. The investigation is also exploring the possibility the graffiti was intended to protest the problems locals have with the authorities.

In an unrelated event over the weekend, masked suspects attempted to set fire to a lifeguard's cabin in the Kiryat Haim beach near Haifa. Inflammatory insults against Jews were scrawled nearby. The local police station is investigating the incident.

Last week, a mass brawl occurred in Abu Snan, a mixed town, between Druze and Arab students at the local high school. Two Muslim students entered the school donning kaffiyehs – in protest of the killing of Khair Hamdan and the mistreatment of Israeli Arabs – and clashed with two Druze students who told them they had "no right to wear that here."

The brawl spilled over from the school, engulfing the town in clashes which injured dozens and led to a suspension of studies.