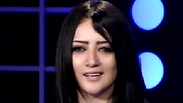 Manal Mousa, an Israeli contestant on the Arab world's premier singing competition, was eliminated on Saturday's live-performance episodes.

The judges of Arab Idol were shocked by Mousa's elimination, and she thanked them graciously for their support before turning to her political message. "I want to pass a message for the yellow journalism that fought me – I am Palestinian and Palestinian blood flows through me."

Seven other contestants remained after Mousa's elimination, including another Israeli competitor Haitham Khalail. Hassem Yusuf, Mousa's uncle, told Ynet after the show that she planned to return to Israeli within the next two days.

Mousa, a 27-year-old resident of Deir Al-Assad in northern Israel, set off massive shockwaves with her statements during her time on Arab Idol, as she took to Facebook to demonstrate her pro-Palestinian credentials.

Mousa called Khair Hamdan, the Kafr Kanna who was killed by Israeli police officers, a "martyr" and encouraged protests and demonstrations across the Arab sector. "Palestine is revolting, Israeli Arabs are revolting, Kafr Kanna is revolting," she wrote.

The post garnered more than 4,000 likes and dozens of comments, some praising her as Palestine's ambassador. Following her remarks, former MK Ayoob Kara, a Druze politician who helped her get a chance to audition for the show, said he would not have supported her if he had known how she would behave.

"When I met with Manal," said Kara at the time, "she asked my help in participating in the show. She said she wanted to fulfill her dream and added that politics was another world to her. She only spoke about art. She told me unequivocally – I do not touch politics."

Ran Boker contributed to this report.