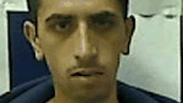 Hamza Sami Sari Magasmah the Arab Israeli who joined the Islamic State group.
Hamza Sami Sari Magamseh on Sunday became the first Israeli citizen to be indicted for joining the Islamic State group.

The Shin Bet and police arrested Magasmah, 22, from Yafa an-Naseriyye, an Arab council in the lower Galilee, at the Ben-Gurion International Airport upon his return from Syria to Israel.

The Northern District's Attorney's Office filed an indictment against Magamseh with the Nazareth District Court on Sunday.

During his questioning, the suspect admitted that he had left for Turkey on October 5 with three of his friends, and he and two of the friends decided to continue to Syria in order to join the Islamic State group.

According to the indictment, Magamseh and his two friends, Muhammad Maruan Kilani and Muhammad Sabr Kananeh, also from Yafa an-Nasweriyye, infiltrated Syria intending to join the Islamic State and fight against troops loyal to Syrian President Bashar Assad.

Magamseh contacted the terrorist organization using Facebook, saying he was from Palestine and that he sought to join IS upon his arrival in Syria. An Islamic State operative who responded instructed him how to get to Syria from Turkey and the two agreed Magamseh and his friends will arrive during Eid al-Adha.

Upon their recruitment to the organization in early October, Magamseh and his two friends waited at an IS camp for 10 days until the beginning of a training course, that included both theoretical lessons, weapons training and physical fitness training, as well as Sharia and religion studies.

Islamic State threat in Israel:

While waiting, "the accused, who took on the name 'Abu Amara al-Palestini,' participated in two theoretical courses on how to use and clean Kalashnikov rifles and underwent morning fitness training," according to the indictment.

At the training camp, Magamseh and his friends met Maharan Yusef Haladi, a 19-year-old resident of Nazareth, who left for Turkey a few days before them, and from there continued on to Syria to join the Islamic State.

After 10 days, Magamseh decided to return to Israel, left the training camp without leave, and returned to Turkey the same way he infiltrated Syria. He was arrested at the hotel by Turkish police, and a month ago returned to Israel, where he was arrested at Ben-Gurion Airport.

"He got there and regretted it. He made an effort to return to Israel, even if he is punished. We still don't know what made him infiltrate," a relative of Magamseh said.

Magamseh was charged with contacting a foreign agent, membership in an illegal organization, conspiracy to commit a crime and illegal exit.

This is the first time an Israeli citizen is being charged with joining the Islamic State since the group was outlawed.

Magamseh's lawyer, Attorney Hazzam Yusef from the Public Defender's Office, said: "The accused only spent several days in Syria and underwent only sports training. He realized his mistake after a short while and returned of his own volition."

A youth who knew Magamseh and others who joined the Islamic State urged them to return home. "They're in the wrong place, that became the most dangerous in the world," he said.

"I still find it hard to believe that my friends joined Daesh," he added, using the Arab name for the group. "They've never even thought of something like this. We were always sitting together, playing, laughing and talking. There was no notion to infiltrate Syria. It all happened by surprise without anyone noticing, he went on to say.

"If you stay with Daesh, you'll lose everything," the youth said to his friends. "This is the right time to escape there, I don't want to hear they've been killed."

Last week, the state appealed the leniency of the punishment of another young Arab-Israeli man, Ahmed Shurbaji. Shurbaji, aged 23 from the northern Arab village Umm al-Fahm, was given a relatively light sentence of 22 months in prison by the Haifa District Court for his participation in training sessions held by the Islamic State in Syria. Shurbaji was apprehended upon his return to Israel.

Last month it was revealed that Ahmed Habashi, aged 23 from Iksal, also joined the Islamic State and was most likely killed during a battle in Iraq. Habashi's family said that a man who was with their son at the time called them and reported his death.