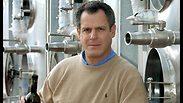 Lenny Recanati. 'An exciting achievement'
Photo: Avigail Uzi
Here's a good cause for celebration: Influential American lifestyle magazine Wine Spectator has selected the Recanati Winery's Cabernet Sauvignon wine from the Upper Galilee series as one of the top 100 wines of 2014.

Every year, the Wine Spectator editors taste 18,000 wines from vineyards around the globe in order to choose the best 100 of them. This is the first time that wine made in Israel makes it into the prestigious list.

Wine and Dine

Twin Wineries project, which aims to promote inter-cultural dialogue between Israeli and German winemakers, celebrates fifth anniversary with special tasting of Teperberg 1870 wines in twin winery Staatlicher Hofkeller Würzburg.

The magazine's managing editor, Kim Marcus, described the Recanati Cabernet Sauvignon Galilee, which ranked 93rd on the list, as "a rich red, showing good power to the mineral-infused dried blackberry, dark plum and current flavors. Engaging dried herbal notes emerge on the focused finish."

The Recanati Winery was founded in 2000 in the industrial zone of Israel's Hefer Valley in the Sharon region. Following its inclusion on the prestigious list, orders have been pouring in from all around the world.

"This an exciting achievement," said Lenny Recanati, one of the winery's owners, stressing that the Recanati Cabernet Sauvignon Galilee costs NIS 60 (about $16) while the top 100 list includes wines which around $150.

"We market all around the world, including to the British royal family," said Recanati Winery CEO Noam Jacoby, "and I have no doubt that we'll continue producing excellent wines in the years to come."