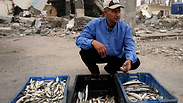 Gaza fisherman
Photo: Reuters
In the heat of the debate about politics, wars and military operations, the picture of the other Gaza is lost. The hottest and most rousing news coming in from Gaza are reports seeped in blood and pain, while other matters – seeped instead in life, love, creativity and hope – enjoy no coverage at all. In the eyes of the media, these matters don't correspond with the image of Gaza.
But there is a different Gaza. It may not be appealing to the media, yet it is abundant in vitality despite the blockade. It manages to create, despite the wars. It walks tall, despite the appalling destruction under its feet.
This is a Gaza that wants to build a different future, that wishes to rebel against its harsh image; a Gaza that aspires to be like any other coastal city in the world, like any city that is home to around one million residents; a Gaza whose sea is just like every other sea, and from whose orchards the scent of oranges fill the air.
The other Gaza, about which you will not hear on the news, is trying to remain sane in any way it can. It speaks poetry, writes prose, tells stories and holds art exhibitions. The city's performers get up on stage – albeit a small one, without an audience of thousands, but applause rings out nevertheless. The other Gaza makes movies – albeit short ones, just like its stretch of coastline, but grassroots movies that reflect the reality of the city nevertheless.
The other Gaza dreams just like other cities do. There, too, is a young boy who dreams of playing soccer in Europe, and another who dreams of winning a Nobel Prize, an actor who aspires to make it to Hollywood, a girl who wants to be Miss Universe, and a student who wants to register patents. In the other Gaza, therefore, sits a nation that aspires to realize its rights – rights that the oppressors will not be able to appropriate from it.
I know the other Gaza. I've seen its children extract DNA from bananas and cucumbers in scientific experiments. I've seen it at the science exhibition at the Al-Qattan Center for the Child, which supports science education in schools and works to promote awareness for scientific, technological and environmental issues among children. In one corner of the exhibition, I saw a group of girls and boys, dressed in lab coats, producing cheese and learning about various foodstuffs.
In another corner, I saw children discussing ideas and learning about medical-device technologies. Other children I have seen in the other in Gaza staged an exhibition dealing with augmented-reality computer technologies. In the other Gaza, I've seen children involved in building robots of various shapes and compositions.
The other Gaza is also holding a science film festival that centers on "Technologies of the Future" and includes interactive scientific activities and an "Electrical Collage" with drawings done by children using electrical waste.
These are just a few images of the other Gaza – the creative Gaza, which loves life as much as it can, despite the reality of the oppression and blockade. We must not forget the other Gaza; we cannot allow it to be buried under harsh image we have created for it. Striving for creativity and freedom is one of man's most fundamental aspirations, and this aspiration must not be suppressed.
Creativity is hope; and creativity is what seeks to turn the pulverized Gaza, now buried under the rubble, into a vital and young city with dreams. This is the other Gaza.
Dr. Atef Abu Saif is a writer and Palestinian intellectual who was born in Gaza's Jabalya refugee camp.