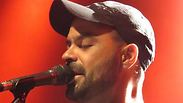 Amir Benayoun
Photo credit: Anat Levy
President Reuven Rivlin announced on Tuesday that would not host the singer Amir Benayoun for a concert that was to take place on Sunday. The cancellation followed the release of a song by Benayoun about an Arab student in Jerusalem who is "ungrateful scum" and plans to stab listeners with an axe as soon as their backs are turned.

Benayoun was scheduled to perform as part of a ceremony to mark the exile and expulsion of Jews from Arab Lands and Iran.

"Ahmed Loves Israel" tells of a fictional Arab who wants to "send to hell a Jew or two" despite his moderate appearance.

"I wasn't brought up on love," the song goes. "It's true that the moment will come when you will turn your back on me, and I'll stab you right in the back."

Over the past month, Palestinian attackers have killed 11 people. Five Palestinian assailants have died at the hands of Israeli security forces, and an Arab-Israeli man was fatally shot by police during a violent protest.

Director General of the President's Residence, Harel Tubi, said that Benayoun was a respected artist who made exceptional contributions to Israeli music, but that "in this moment of tension and conflict", the singer's words were out of line with the president's responsibility to alleviate tensions and "promote cooperation rather than division in Israeli society".

The office said the sentiments expressed by Benayoun in the song "Ahmed Loves Israel" are "inconsistent with the responsibility required of the president's residence."

Benayoun did not respond to the announcement. He posted a Facebook status Monday in which he tried to explain the song, which he said expressed his feelings and "does not call for any kind of violence towards any person."

He added that he was against violence. He also commented on those who criticized the song. "To everyone who is shocked – I suggest that you first of all be shocked and concerned by the terrorism roiling the country . . . There are much more shocking things than a song that expressed nothing more than pain and fear."

Ran Boker and the Associated Press contributed to this report.