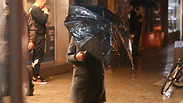 Catching cover from rain in Tel Aviv
Photo: Motti Kimchi
A stretch of wet and windy weather reached its peak overnight Tuesday as rains spread to Jerusalem, southern coastal cities such as Ashdod, as well as the northern Negev and the Judean desert area. The winds are expected to weaken in the afternoon hours but showers will continue in the north and central Israel throughout the day.
Meteorologist Tzachi Waxman of the Meteo-Tech company said that impressive amounts of rain fell over Israel since Tuesday afternoon until 6 am Wednesday morning, in line with forecast information.
Rain in Tel Aviv, Tuesday (צילום: מוטי קמחי)
The northern Golan Heights received 50 mm of rain, while 30 mm washed over the Galilee. Some 20 mm was recorded in the Haifa and Acre area, 38 mm in the Sharon region, 40 mm in Bat Yam, 50 mm in Rishon Lezion, 42 mm in Jerusalem, and 32 in Kiryat Gat.
sraeli takes advantage of flooding to ride waves of local creek (צילום: ריקי כרמי)
Israeli takes advantage of flooding to ride waves of local creek (צילום: ריקי כרמי)
Rain will continue to fall at intervals and in small quantities. There is serious concern that the rains will cause flooding in the Judean desert and in the rivers flowing down to the Dead Sea.
Several communities in the Sharon Region were particularly affected by the storm. Faults occurred on high-voltage transmission lines, causing power outages in Herzliya. Blackouts were also experienced in Kadima-Tzoran, Tel Mond, Ein Sarid and Porat.


As for today's weather, rains will continue from the north to the Negev accompanied by strong winds, and below average temperatures for the season. The concern for flooding will not end on Thursday, during which the rains will continue but the winds will weaken. Friday morning is expected to be cold, but the sun will come out and temperatures will slightly rise.