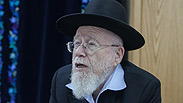 Rabbi Dov Lior. Undeterred by security risk
Photo: Ohad Zwigenberg
Rabbi Dov Lior, one of the senior spiritual leaders of Israel's extreme right-wing camp, has informed his community members in the city of Hebron and Kiryat Arba that he plans to move to East Jerusalem in order to strengthen the Jewish settlement in the city.

Rabbi Lior is one of the founders of the national-religious Tkuma movement, a constituent of the Bayit Yehudi party. His rulings and opinions have stirred many rows over the years.

Controversy

Former Shin Bet chief says Rabbi Lior inciting crazy ideas, extremism by saying abductions are punishment from God.

The rabbi called on IDF soldiers to refuse to evacuate settlements, encouraged Jewish worshippers to visit the Temple Mount and said it was forbidden by Jewish Law to employ or rent homes to Arabs.

In 2011, an arrest warrant was issued against him for alleged incitement over statements published in the book "The King's Torah," in which he legitimized the killing of non-Jews at a time of war.

After serving as the chief rabbi of Hebron and Kiryat Arba for 39 years, the rabbi announced his decision to retire this week. He issued a farewell letter describing the story of his life, the miracle of his Holocaust survival and his activity over the years.

The rabbi amazed his students when he announced that he plans to move to an apartments in the isolated Jewish neighborhood of Beit Orot in East Jerusalem.

"I am not abandoning the battle for the Land of Israel, God forbid," he wrote. "I hope that my presence in Beit Orot will strengthen our standing in Jerusalem's gates."

As a young boy, Rabbi Lior studied at the Mercaz Harav Yeshiva in Jerusalem. In 1976, he moved to Kiryat Arba and was elected the city's chief rabbi.

Now his students hope he will be able to devote his life to teaching Torah and delivering lessons in Jerusalem. They believe his home will become a site of pilgrimage for his followers from all across the country.

Lior's personal assistant, Yossi Dimer, said this week that the rabbi was only moving to Jerusalem with his wife, and that they would not be joined by the families of his students.

Dimer added that Rabbi Lior was undeterred by the security risk involved in living in that area, where a stabbing attack took place Friday evening. "He does not take such considerations into account," he said.