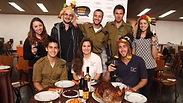 Celebrating in Tel Aviv
Photo courtesy of Jewish Souls United
About 200 new immigrants and soldiers from North America celebrated Thanksgiving on Thursday at a Tel Aviv synagogue. They enjoyed all the traditional Thanksgiving foods as well as a special Israeli treat – pumpkin-flavor Krembos.

The event, known as "My Big Fat TLV Thanksgiving", was created by the Nefesh B'Nefesh (Jewish Souls United) organization, Friends of the Israel Defense Forces (FIDF), the Ministry of Immigrant Absorption, the Jewish Agency for Israel, and the Jewish National Fund. The organizers' goal was to allow young immigrant to celebrate their traditional holiday, with some Israeli tweaks.

Jewish Jokes

Comedian Seth Rogen shares holiday story in online video about Canadian-American-Jewish Thanksgiving.

"Thanksgiving is the most family-oriented holiday in the US. This is a great opportunity for us to allow many new immigrants arriving alone, including soldiers, to participate in a feast together with other immigrants like them, and celebrate the American holiday in the heart of Tel Aviv," said Vice Chairman of Nefesh B'Nefesh Erez Halfon.

The participants enjoyed a giant roasted turkey, corn on the cob, pumpkin pie, and cranberry sauce. The meal ended with a pumpkin-flavored Krembo, an original dish made especially for the event.

The creator of the dessert, Sharon Shaked, a chef who came to Israel from New York with Nefesh B'Nefesh, explained her inspiration for the recipe. "I chose to make a pumpkin krembo because until I came to Israel, I had never seen or tasted a krembo, but as soon as I took my first bite I fell in love," she said.

"The krembo became a kind of symbol for me of all that is beautiful and special in Israel. And the pumpkn, on the other hand, was a major component of my life in the US. I thought there was nothing more appropriate and cheerful than combining the two for the holiday."