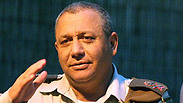 Maj. Gen. Gadi Eizenkot
Photo: Ofer Amram
Following a prolonged waiting period, Prime Minister Benjamin Netanyahu has finally approved Defense Minister Moshe Ya'alon's choice for the appointment of the next Chief of Staff. The official announcement regarding the successor of Lieutenant General Benny Gantz will be made on Saturday night. However, it can already be stated that Maj. Gen. Gadi Eizenkot will be named as next chief of staff of the IDF.

Sources within the military have harshly criticized Netanyahu for delaying the decision, claiming that the six weeks left in Gantz's term are insufficient for preparing his successor for the role. In a report published by Yedioth Ahronoth on Friday morning, senior officers said they sensed that Netanyahu was belittling Ya'alon with his behavior. They suggested that this was causing dissatisfaction on the part of Eizenkot, considered Ya'alon's candidate.

Ya'alon's people have officially denied any rift with the prime minister a result of the deliberations. But high-level IDF sources have claimed a split between the two. It must be noted that the Minister of Defense is the one who recommends the choice of Chief of Staff, so as long as Ya'alon is holding the position, he will not allow an appointment that goes against his wishes.

Some in the IDF think that Netanyahu's foot-dragging shows that he is unhappy with the candidates. But there's also a sense that he isn't really familiar with the candidates.

In the next round in the race for the Chief of Staff position, we can expect a much more significant battle between the head of the Northern Command, Maj. Gen. Aviv Kochavi, and his predecessor Maj. Gen Yair Golan.

Eizenkot (54) began his IDF service with the Golani Brigade. As he rose through the ranks, he commanded some of the brigade's elite units, such as Orev and Battalion 13. He was named Golani's commander in 1997.

In 1999, Eizenkot was appointed military secretary for the prime minister and the defense minister.

In 2003, he was appointed commander of the Judea and Samaria Division. He served as head of the IDF's Operations Directorate in 2005 and in 2006 he assumed command of the Northern sector.

Eizenkot has a Bachelor's in History from Tel Aviv University, a Master's from Haifa University and is the graduate of a leading Army and Security Studies program in the US.