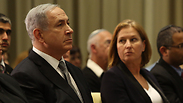 Netanyahu and Livni
Photo: Gil Yohanan
Prime Minister Benjamin Netanyahu sent Israel's political system into a tailspin by de facto calling a national election Tuesday evening. With no viable alternative to take the premiership from him, Netanyahu simply chose the setting most convenient to him to send Israel on a crippling and redundant election.

While he justified the move by saying his centrists ministers were planning a "putsch" against him - a claim which should raise eyebrows in any democratic country were it not for the fact that it's clear Netanyahu was just using it as an excuse - its timing should indicate the extent to which the current prime minister is solely motivated by his own personal survival.

Election Season

Op-ed: If five Knesset seats move from the Likud to a party presenting a real rightist-centrist alternative, it will be the end of Netanyahu's rule. Can Moshe Kahlon succeed where Livni, Lapid and Herzog are insisting on failing?

What about the current timing is so good for Netanyahu? For it is clear that he would not call an election were he not absolutely certain he would remain in power.

At face value, it might actually seem like a very poor time to go to elections: violence is spreading (last month more Israelis died than in any other month in the last two years), racism and social tensions are at an all time high (including a rise in hate crimes against both Jews and Arabs and incitement against Israel's right wing president, just because he refuses to fall in line with extremism), there is no hope of a diplomatic process with the Palestinians and economic problems are retaking the headlines.

But these are of no real concern to Netanyahu. Moreover, they actually work to his advantage. It is telling that Livni and Lapid - the only two ministers who publicly identify with the two-state solution - were fired, while Bennett and other Bayit Yehudi ministers had dissented against him just as much, while getting to keep their jobs. It is telling in that Livni and Lapid were also the only ones (especially Livni) to even attempt to calm racial tensions in Israel, and it is exactly that social schism that feeds the fear that is Netanyahu's electoral lifeblood.

The polemic and polarizing discourse of the current government was led by Netanyahu and what we will soon be reminded are his "natural partners": racist populists, right wing rabbis, extreme settlers, Haredim MKs with no sense or desire for unity. The growing violence will only reinforce the Likud's broken record narrative of security and taking a hard hand to deal with any problem, securing more votes for Netanyahu.

Unlike President Rivlin's attempt to calm growing anger by Israeli Arabs - less disenchanted by promises of peace with the Palestinians and more fed up with a society which has become openly racist - Netanyahu and his ilk have called for strong rule of law. No surprise Netanyahu made similar comments during his press conference, saying dissent by Livni and Lapid made it hard for him to govern - but to what end? Not for peace or some sustainable long term goal, not even for governability, but for dealing with Israel's threats with a strong hand - the very same threats Netanyahu has been partially complicit in fanning.

Netanyahu claimed the government was "forced on him" - by who? The 1.8 million people who voted for Livni and Lapid? Netanyahu's claim of a putsch are concerning - Israel is increasingly becoming a country where public criticism of the government - though legal and widespread - is being conflated with illegitimate criticism of the State of Israel; thus criticism of Netanyahu has become increasingly synonymous with threatening the state, another threat which must be dealt with, be it in the shape of Arabs, leftists or dissenting ministers.

But what is really concerning is the fact that neither Lapid nor Livni actually pose a threat to him, both are low in the polls and cannot replace him. Moreover, thanks to Netanyahu's tricky discourse, their support of peace has been painted as dangerous in its own right, which renders them further unelectable by cutting at their centrist base, with innuendos of dangerous leftism.

Netanyahu is demonizing the weak just to build a straw man with whom he can duke it out in the elections, but his real goal is building a coalition which will allow him to continue with his true policy of mongering fear and maintaining the status quo – which, though allegedly dangerous, actually seems quite good for Netanyahu.

Politically, no opposition leader can replace him: Labor's Herzog seems like an uninspired word generator of moderate comments; party rival Gideon Sa'ar has yet to get his camp together; ex-Likud star and political wunderkind Moshe Kachlon is just starting to get his party or movement on the roll; Bennett is still too inexperienced and rightwing; former Labor leader and recent government minister Amir Peretz is still laying ground work for his takeover of either Labor or Hatnua.

The elections, which will undoubtedly be costly, will shift the focus from the true issues on the agenda - be they growing racism or Israel's economic problems - to more threats and war. No real change will come, but the negative forces in play will get a strong backing as violence continues to spread and hope continues to disappear from Israeli discourse.

The next government will be comprised of the same people feeding the current crisis, thus reinforcing their very claim to power. With Bennett as Israel's foreign minister and Lieberman leading the economy, the Haredim can resume their old positions and we can all go back to settlement expansion, robbing the middle-class blind, and of course, Iran!

The move's timing and form indicate Netanyahu is simply "managing the conflict" which is Israel's government, much like he is managing the conflict with the Palestinians by making sure it never goes away. Netanyahu is just switching the "critical" voices for parties that can be more easily bought and played so he can better maintain his power at the expense of Israeli society.