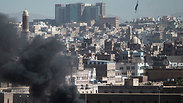 Terror attack in Yemen (archives)
Photo: Reuters
Three people were killed on Wednesday when a suicide attacker drove a car laden with explosives at the residence of the Iranian ambassador in the Yemeni capital Sanaa, security officials and paramedics said.

The blast punched a large hole in the building and sent rubble flying across the street of the well-guarded diplomatic quarter of the city, a Reuters witness said.

Yemeni soldiers and paramedics arrived at the scene with stretchers. Abdullah Mahmoud, a soldier, said Yemeni and Iranian guards had been killed and a paramedic at the scene said three dead bodies and three wounded had been taken from the area.

Related stories:

It was not immediately clear whether the ambassador was in the residence at the time of the blast.

Shi'ite Muslim rebels close to Iran took control of Sanaa in September and fanned out across the country, clashing with Sunni tribesmen and also with Yemen's local branch of al Qaeda.

The United States and Yemen's Sunni Gulf neighbours suspect Iran is meddling in the impoverished state and there are fears of sectarian warfare spreading to other countries of the region. Iran denies interfering in Yemeni affairs.

Iranian diplomats have been targeted in Yemen in the past. One Iranian diplomat is still being held hostage by suspected militants and another was killed this year when he resisted a kidnapping attempt.