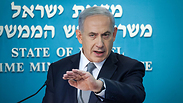 'What Israelis saw Tuesday evening was a haunted, bitter, petty prime minister'
Photo: Emil Salman
Prime Minister Benjamin Netanyahu's remarks at the delusional press conference he held Tuesday evening evoked a sense of great shame and, even worse, embarrassment.

It was such a delusional press conference, that we should ask ourselves if the person standing before us, badmouthing Yair Lapid and Tzipi Livni – who are much more decent than most of his ministers – is even worthy of running this state in the three months left until the elections.

Elections Ahead

Analysis: The third Netanyahu government was not killed by an ideological dispute, an unusual failure or a popular protest. It died because of mutual loathing, because of the prime minister's nonperformance, because it lost its way.

The "grocery list" presented by Netanyahu as an example of his dismissed ministers' subversion was so pathetic, so ridiculous, that no one even felt like reminding him of the undermining things he had said as minister against his own prime minister, Ariel Sharon.

So Lapid said that boycotting Iranian President Hassan Rouhani's UN speech was a mistake? Oh, no. Livni claimed that Netanyahu boycott of Palestinian President Mahmoud Abbas was stupid? That's terrible. Really outrageous subversion, a decisive cause for dismissal.

It's a shame that the prime minister forgot what two other ministers – his former ally, Avigdor Lieberman, and his current ally, Naftali Bennett – said about him not so long ago, comments which will likely be featured in rival parties' election campaign. Not to mention the things ministers from his own party are saying about him – the ministers who did not resign because of him.

The petrified press conference reminded me of the old Netanyahu. The one who used to rush to television studios to explain something instead of counting to 10 first. It was the impulsive, stressed out, sweaty Netanyahu, who believes that his words can change reality.

The dramatic description of a finance minister teaming up with the justice minister in a dark place in a bid to oust the prime minister is even clinically concerning. Does Netanyahu really and truly believe that there was a putsch attempt here? Does he really think that Lapid tried to strike a deal with the ultra-Orthodox parties in order to bring him down? Can he even imagine Knesset Members Moshe Gafni and Aryeh Deri crowning Lapid as the next prime minister?

And perhaps – and this is just an option – someone succeeded in selling him this story. Someone sophisticated, experienced, crafty, who is well aware of the prime minister's paranoia, who knows exactly which button to push in order to evoke all the demons in him. Someone who really wanted elections, and who knows how to knead Netanyahu's fears and suspicions like modeling clay. And that someone is now laughing all the way to the polls.

Apart from the allegedly irrefutable evidence presented by Netanyahu on Tuesday evening, there is no trace of a putsch in the political arena. The only one who tried and maybe even struck a deal with the haredim is Netanyahu himself.

What the Israeli public saw Tuesday evening was a haunted, bitter, petty prime minister trying to blame his partners for his government's failure, as if he bears no responsibility for what happened here in the past two years.

It was embarrassing seeing the prime minister use the press conference, in which he was supposed to explain to us why he is dragging the state to elections at this time, for a personal campaign in which he glorified his achievements, like he did only several week ago in his Knesset speech.

In different times, the speech would have been taken off the air due to a disgraceful exploitation of airtime for election propaganda. That might have been in his best interest – it was the only thing that could have saved him from the embarrassing event he organized for himself.

Netanyahu was right about two things in his speech: That this was a bad government which was forced on him, and that Israel's citizens deserve a better government. As for the first thing, we should ask where was he and what was his part in the failure. And as for the second thing – it's true, Israel's citizens do deserve a better government.

But let us not delude ourselves: The government Netanyahu is offering us is a government of the far right and the haredim. They are his natural allies. They are the ones he years for, and he feels at home among them.

This is the nightmare Netanyahu is promising the Israeli public, and this is the government we are going to elections for.